Oregon State University Ecampus • OSU Degrees Online
---
Ecampus fact
20+ chemistry courses online
Oregon State offers online chemistry course and lab sequences.
Online tutoring opportunities for Ecampus students
Share the advantages of SMARTHINKING with your classes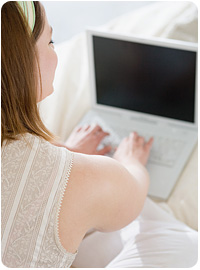 Currently, OSU Extended Campus provides online tutoring services through SMARTHINKING, a leading provider of online tutoring and learner support services. Our students can find assistance in mathematics (basic math through calculus), statistics, writing, biology, chemistry, physics, accounting, finance, economics and Spanish. Tutoring is accessible through Blackboard courses, and is available 24/7.
Additionally, students can receive live one-on-one tutoring, or may submit a question to a tutor for offline response. Students may also submit their writing assignments for a personalized review and critique and receive feedback within 24 hours.
SMARTHINKING's certified e-structors are professional tutors, 90 percent of whom have earned advanced degrees in their fields. The SMARTHINKING tutors have an average of nine years of teaching experience, and must complete an extensive training program in order to be certified to work with your students. Tutors work to engage and encourage students in active learning, as well as to enhance their motivation by helping them to develop successful learning skills. SMARTHINKING e-structors do not simply hand out answers or just do homework for your students.
Who should use this service?
Any student who needs to create an extensive paper or essay can benefit from submitting their paper to the SMARTHINKING Essay Center for review and editing. Research shows that students who take advantage of this service produce a more polished product than those who simply submit their first drafts to their instructors for grading. Many Ecampus faculty members routinely direct students to submit first drafts of all papers and essays to this service because of the improvement they see in their students' writing.
SMARTHINKING also provides Live Tutoring sessions in a variety of subjects to give students direct and clear guidance in real time. Whether a student is studying calculus, statistics, physics, accounting, or another subject in which tutoring is offered, SMARTHINKING e-structors can assist them in unlocking understanding.
Student support is just a click away
To connect with a tutor, direct your students to login to Blackboard and click on the Online Tutoring tab. Ecampus students are allocated up to 15 free hours of tutoring and can submit up to 12 papers per term free of charge. You can also advise your students to discover more information on Ecampus Student Services' SMARTHINKING webpage.
For more information please contact Cindy Lehto in the Student Support Services office or John Huber with SMARTHINKING. You can also learn more about the subjects supported by SMARTHINKING and their schedule by visiting the main SMARTHINKING site.
Back to Ecampus eFaculty News.

Features and Navigation
Ranked top 10 in the nation
OSU Ecampus earned a top 10 ranking for the fifth year in a row on a list of America's best online bachelor's programs. Learn more »