Oregon State University Ecampus • OSU Degrees Online
---
Ecampus fact
20+ chemistry courses online
Oregon State offers online chemistry course and lab sequences.
Winter 2012 Faculty E-News

OSU Ecampus Faculty E-News
"Your Electronic Link to Teaching at a Distance"

Published by: OSU Extended Campus
Oregon State University, Corvallis, Ore.; Winter 2012 Issue
Jan. 25, 2012
Ecampus homepage
Faculty & Department Services
---
Welcome
Thank you for taking a few moments to read the winter 2012 edition of the Ecampus Faculty E-News. Please let us know if you would like to submit an article or see a specific topic addressed in a future edition. And please contact us if you have questions about any of our services. We appreciate your feedback.

OSU academic calendar
---
Reason for optimism as a new year unfolds
A message from Lisa L. Templeton, Ecampus Executive Director


Welcome back to another term and a new year, which we hope will be as enriching for you and our students as 2011 was. The previous year was one of unprecedented growth and success for Ecampus, with the addition of a variety of online degree programs and a record number of graduates who earned their OSU degrees online.
Although 2012 is only a few weeks old, Ecampus is already taking strides to give distance students greater access to an OSU education no matter where they live. By forming new partnerships on campus and strengthening others, we anticipate continued growth this year in the number of programs that we offer – both fully online and in a hybrid-delivery format – and we'll implement innovative methods to better support OSU faculty in the development of online courses.
This issue provides a glimpse into some of those new faculty programs and services that will help OSU continue to impact adult learners throughout the world.
Best wishes in this new year.
---
TV 'grandparents' prove they've still got it
Few people ever have a summer vacation like the one OSU professor Cathi Alden took in 2011. She taught a couple summer courses online – and also sprinkled in a little trip around the world as part of the uber-popular reality TV show, "The Amazing Race."
Cathi and her husband, Bill, became fan favorites and bucked the odds by holding their own against other competitors who were decades younger.
Read all about the Aldens' TV excursion across the globe and why they were certain they'd be the first team eliminated.
---
Developing a new online class? We'll help!
This spring, Ecampus instructional designers are offering a new faculty workshop designed to guide course developers through the production of an online course, using research-based best practices in course design and pedagogy.

Offered online with optional face-to-face sessions, the Developing an Online Course Workshop seeks to give instructors experience from the online student's perspective, as well as the opportunity to receive hands-on training in the use of Blackboard and other online-learning tools.
While this workshop will provide an orientation to the theoretical underpinnings of quality online education, the approach is practical in nature. Faculty members should expect to work in a facilitated, collaborative environment with a cohort of peers to create the course materials they plan to use in teaching their courses.
Ecampus recommends participation in this training two terms prior to the term you plan to teach the course. (Participate in the spring workshop to prepare a course for fall, for example.)
The training is offered online and begins in Week 2 of spring term. To sign up, email instructional design specialist Shannon Riggs or call 541-737-2613.
---
Hybrid faculty aim to find the right blend
Oregon State is ramping up its efforts to effectively address a major trend in higher education: blended learning.

OSU kicked off its Hybrid Course Development Pilot Program this month and has 11 members -- from six OSU colleges -- in its inaugural class, all of whom aim to replicate the same student success other universities have achieved with the blended approach.
"Hybrid courses really have the potential to enhance student engagement and learning outcomes," said Cub Kahn, the pilot program's coordinator and an instructional designer in the Center for Teaching and Learning. "If you intentionally develop a hybrid course and integrate the best of what you can do in a classroom and online, then ultimately it should result in greater student success."
Read more instructor input about the program, which is operated by the Center for Teaching and Learning with support from Ecampus, and faculty stipends are funded by the Office of Academic Affairs.
---
Advisors' efforts highlight O&E accolades
A pair of OSU faculty members who teach Ecampus courses and the university's fisheries and wildlife advising team capped the year in notable fashion, each winning a Vice Provost Award for Excellence from the division of Outreach and Engagement last month.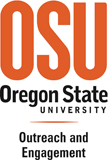 Mark Edwards, an associate professor in the Department of Sociology, earned the Strategic Impact Award for achieving meaningful outcomes relevant to the signature areas of the OSU Strategic Plan. Edwards was also instrumental in helping Ecampus launch an online undergraduate degree in sociology in 2011.
Paul Ries won the Innovation in Online Credit-based Teaching Award for his work as an affiliate faculty member in the College of Forestry. Ries employs an interactive approach to his forestry and horticulture courses that enhances student success by prompting them to think critically about the local and global environment.
The fisheries and wildlife distance-education advising team was honored with the Program Support Award. The group furthered OSU's mission of outreach and engagement by going above and beyond their job expectations while serving a large Ecampus student population.
Browse photos of the O&E award-winners on the OSU Extension website.
---
Live like a student – if only for a moment

Did you know that you can log in to your course as a test student in Blackboard? This allows you to see your course from a student's perspective. You can take a test, submit an assignment or see the "student view" of the grade center.
Simply assign your test student account a password by following these instructions (found in our online Blackboard tutorial manual), and then log in to Blackboard with the test student's credentials.
---
Thank you for reading the winter 2012 edition of Ecampus Faculty E-News.
Back to Ecampus Faculty E-News archives.

Features and Navigation
Ranked top 10 in the nation
OSU Ecampus earned a top 10 ranking for the sixth year in a row on a list of America's best online bachelor's programs. Learn more »