Passion for educating others is evident in all business instructor does
They say the only certainties in life are death and taxes. Here's another one to add to the list: If Amy Bourne says she's going to do something, she's going to do it.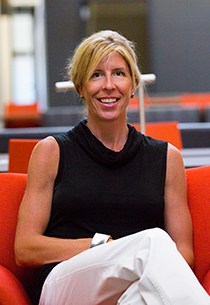 Bourne, a senior instructor in Oregon State University's College of Business, decided as a teenager that she would become an accountant, so she became an accountant.
She discovered during her undergraduate studies at Texas Tech University that she loves helping people learn, so she also became an educator.
She always knew – for no particular reason – that she wanted to move to Oregon, so in 2007 she took a job at Oregon State and moved to Corvallis.
And when Bourne says she'll be available at a certain time to help an OSU Ecampus student work through a problem, you'd better believe she's true to her word – even if she's on vacation and in the middle of a phone call with someone else.
"I have to be flexible," Bourne said. "Students who study online have different needs because there's a lot going on in their lives. Working with students who have life experience is one of the things I enjoy most about teaching with Ecampus."
Such opportunities will increase for Bourne and other faculty in the College of Business starting this fall with the launch of a bachelor's program in business administration – delivered entirely online by Ecampus.
As much as Bourne will enjoy her high-touch interactions with a new crop of distance learners, the students are the ones who will benefit the most from being in the online classroom with an instructor as passionate as Bourne.
After she finished helping the student mentioned above, Bourne called us back – just as she said she would – to give her thoughts on the new online business program, why she loves teaching and the traits of a successful online learner.
On why she became an educator
"I love helping students learn. I tutored throughout college and worked for the Texas Tech athletic department, tutoring athletes and running study halls. Then after graduation, while working in public accounting, I tutored on the side. I just enjoy college.
"I enjoy convincing someone who believes accounting is awful or extremely hard to enjoy and understand the benefits of accounting to their business career. It's rewarding when I hear from students that they decided to study accounting because of the accounting class they had with me."
On what she likes most about teaching online
"There is a level of intimacy with online teaching because students seem to reach out and share more in writing versus face-to-face. Teaching online also keeps me abreast of advances in technology and different learning styles.
"This sounds vindictive, but for those students who go into an online class thinking it's going to be easy, I like giving them a dose of reality. If I'm going to put in the time, the students are going to put in the time. It's about holding students accountable just like you would in a face-to-face class."
On the time being right for OSU to offer a bachelor's program in business online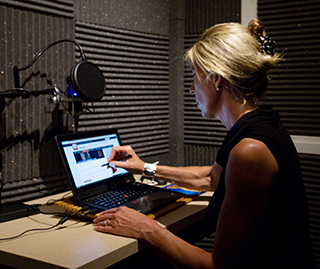 "We have such an excellent online education program at OSU, so why would you not capitalize on an infrastructure that is so strong? It's important to offer this program now because Oregon State wants to continue being ahead of the market and the driver of the market. The College of Business and Ecampus have worked hard to make a product that is innovative and consistent. Students know the classes are going to challenge them."
On why having a business administration degree is an advantage in the job market
"Business in education is valuable no matter your career. It's unbelievable to me how valuable a business degree is in every aspect of your life. A business degree helps across the board. A student with a business degree and understanding can provide value to all aspects of a job in any field – whether it's related to finance accounting, entrepreneurship, IT, marketing, leadership and so on. Productive business practices are critical for all entities to succeed."
On advice for students in the business administration online program
"Be proactive and organized, because 'out of sight, out of mind' can get you in trouble quickly in an online class. I check my online class twice a day, minimum. It might be for four minutes, it might be 30 minutes, it might be 90 minutes. There's a lot of flexibility in an online class, but with flexibility comes personal responsibility. The course content is identical to what you would get in a face-to-face class. You need to be self-disciplined and have excellent communication skills."