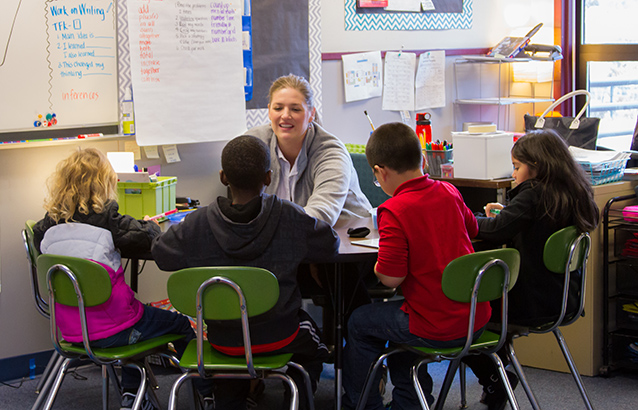 April 5, 2016
A unique partnership between Oregon State University and the Beaverton School District will prepare future teachers to effectively instruct K-5 students through a new hybrid teacher licensure program beginning this fall.
The Master of Arts in Teaching with an option in Clinically Based Elementary program (M.A.T. program) is a two-year, full-time master's degree program that immerses students in the classroom from day one, where they will co-teach and work side by side with experienced Beaverton School District (BSD) educators.
Frequently referred to as "Teach for Beaverton," the M.A.T. program provides students the opportunity to actively engage with a cohort of peers while learning from renowned Oregon State faculty in the College of Education. The program blends online coursework – delivered by Oregon State Ecampus, a national leader in distance education – with in-person classes.
"The program provides a powerful opportunity for future teachers," said Matt Nyman, M.A.T. program coordinator and instructor. "They will benefit from the expertise of OSU College of Education faculty through coursework and the wisdom of practice from expert Beaverton School District teachers during two years of work in classrooms."
Students who graduate from the program are positioned to enter the workforce with an advanced set of skills at a time when there is an increased demand for teaching professionals with master's degrees in the Pacific Northwest.
The program's collaborative learning environment enables students to hold a part-time job in the district during the first year and earn a salary while leading a classroom during the second and final year.
To meet the state and nationwide need for more teachers from underrepresented groups, the in-person portion of the M.A.T. program is based near Portland, Oregon in Beaverton – one of the state's most diverse cities, with more than 90 languages spoken in area schools. It is designed for those who bring a rich diversity of cultures to their classrooms.
"We believe every student, regardless of background, deserves a great education every day of every year. And the key to a great education is a great teacher," said BSD Chief Human Resource Officer Sue Robertson. "We can make this a reality by fully supporting and preparing teachers to meet the needs of all students during their very first year of teaching."
Curriculum in the 52-credit program features culturally literate education, teaching for social justice and science and math topics. Specific coursework includes teaching students with special needs, classroom management and K-5 STEM (science, technology, engineering and math) integration.
Fall term at Oregon State begins Sept. 21. Visit the Ecampus website for information on how to apply.
-30-
About the Oregon State University College of Education: Our mission is to prepare, inspire and support teachers, counselors, educational leaders, researchers and volunteers to promote lifelong learning in schools, colleges, universities, communities and workplaces. Embracing an innovative spirit in teaching, research, service and knowledge dissemination, we are committed to the values of diversity and social justice in a global society.
About Oregon State Ecampus: Oregon State Ecampus provides learners with access to a high-quality education no matter where they live. Ecampus delivers more than 40 undergraduate and graduate programs online to learners in all 50 states and more than 40 countries. Oregon State is consistently ranked among the nation's best providers of online education. Learn more about OSU degrees online at ecampus.oregonstate.edu.