Award recognition echoes what Jones' students have been saying all along
Melanie Jones began advising Oregon State students in 2004, and she has earned a reputation as one of the university's many outstanding academic advisors.
The proof is in the words of her students. A small sampling: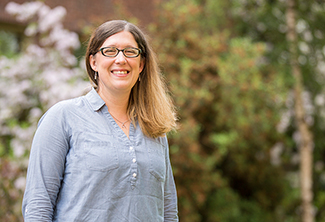 "Melanie is outstanding. She's always there to pass on advice and provide little bits of motivation for me to press through." – Michael Davis (Ramsey, Indiana)
"I feel that she truly cares about my education. She knows me, she understands the struggles I have faced, and she has been the rock at OSU to help me when the going gets tough." – Regina Lopez (Morgan Hill, California)
"She has been both cheerleader and wise mentor, and I appreciate all her efforts more than I can say." – Elizabeth Lockwood (Caldwell, Idaho)
So it came as no surprise earlier this spring when Melanie received the Ecampus Advisors Award in a contest based on submissions from OSU's distance students. An advisor in the College of Agricultural Sciences, Melanie was selected in a drawing with other nominated advisors and received a $50 Visa gift card.
The nomination and prize are the latest evidence that students appreciate the guidance and support she provides. She works with both Ecampus and on-campus students, which has augmented her ability to respond to the unique needs of each learner.
We caught up with Melanie recently to learn more about her experience advising distance students.
---
Students often say thanks and offer their praise, but winning this award is recognition on a wider scale. How meaningful is that?
MJ: Having students take the time out of their busy lives and schedules to highlight specifics on how I've helped them makes me feel tremendously grateful. I am thankful that I have a job that I love, and that I can make a difference in others' lives, especially related to celebrating growth and success. It's very rewarding.
In 10 words or less, describe the best part of your job.
MJ: Connecting, helping and learning from students are the best parts, hands down! (Editor's note: That's 12 words, but we'll let it slide.)
How do you build a genuine connection with students who, in many cases, you'll never meet in person?
MJ: I view this as the most important part of my job. I know how important that very first contact is. A student has decided to attend OSU, declared the major I advise in, and is ready to dedicate their lives to the process of obtaining their degree. That is HUGE!
I try to create a comfortable tone when working with students (whether in person or by phone). I ask a lot of questions and get to know them along with their goals in coming into our program. I try to prioritize what I share, yet maintain keen awareness of what may be on a student's mind or radar.
What is the biggest challenge you face in advising distance students?
MJ: The challenge is just that, the distance. It is hard for someone who is not walking on our campus to absorb the university. As an advisor, I feel I am often the voice and "feel" behind the campus. Keeping communication frequent and meaningful is most important to me.
I often share little stories and pictures about our campus when I email distance students. I've mailed OSU car stickers to a student who I felt really needed to remember that they were/are connected to us. I feel if students understand how we operate, it can take a large barrier down immediately.
What's the one pearl of advising wisdom you'd like to share with all students?
MJ: Just one? That's hard! Be realistic about how many classes/credits you can take with other life demands. Be open to sharing interests, questions, concerns and successes to any and all along the way (advisors, faculty etc.). I have seen some amazing connections and problems averted by networking and open communication.
Lastly – enjoy this process. Take some fun classes that interest you, and register on time!