Oregon State University Ecampus • OSU Degrees Online
---
B.S. in Computer Science – Online (Postbaccalaureate)
Compare 20+ online undergraduate degrees
Now accepting students for winter 2018. The deadline to apply is Nov. 1, and classes start Jan. 8.
Oregon State University's School of Electrical Engineering and Computer Science (EECS) offers an undergraduate program that is geared to individuals who have a bachelor's degree in any field, so no previous computer science training is required. The program is delivered entirely online by OSU Ecampus.
In this online degree program, students gain knowledge and skills in programming fundamentals, software engineering, computer systems and networking, mobile and web development, and user interfaces.
A powerful career advantage
You can build a rewarding career by merging computer science skills with your previous bachelor's degree (B.A. or B.S.), essentially creating unlimited career possibilities. The combination of the two degrees will make you more marketable to employers. Computer science skills are in high demand in a variety of fields, such as medicine, business and entertainment. Visit the careers section to see other examples of career tracks with a computer science degree.
Flexible timeline
The program offers one-year, two-year, three-year or four-year track options. Make your choice based on time commitments to your work and personal life as well as prior exposure to computer science.
The intense, one-year track is for those who can be full-time students online.
Because this is a postbaccalaureate program, students take only the required courses for computer science.
Students can start any term: summer, fall, winter or spring. (Note: Applications for the one-year track are accepted in fall, winter and spring terms only. Learn more about the program's application deadlines.)
To enable all the students to get on the fast track, a new course in "introduction to computer science", CS 165, is offered for 8 credits. The course is a combination of introductory courses: CS 161 and CS 162, which offer the foundation knowledge for the program.
Please note: This program is very rigorous. You must be resilient and exhibit keen time management skills in order to succeed.
Advantages of an Oregon State University online degree:
All program courses are developed and taught by Oregon State employees who are experts in their field.
OSU is regionally accredited by the Northwest Commission on Colleges and Universities.
Online students receive the same diploma as on-campus students.
Students can study from anywhere in the world with an internet connection.
We're here to support you
We understand that there is more involved to being a student than just completing a class. Oregon State Ecampus offers a full range of support services to help our students be successful, such as online tutoring, career services, library services and disability access. Plus, every degree-seeking student has an academic advisor to offer guidance in selecting courses and staying on track for graduation.
If you need assistance, please contact Ecampus by email or call 800-667-1465 Monday through Friday between 8 a.m. and 5 p.m. PT.
Straight from the source
Learn more by visiting the School of EECS program website, which provides helpful resources and information for future and current Ecampus computer science students. You can also watch videos featuring program students and graduates as well as industry experts.

Features and Navigation
Academic calendar
Currently it's fall term. See academic calendar for our quarter term schedule.

Winter term starts Jan. 8, 2018.
Spring term starts April 2, 2018.
Degree details
| | |
| --- | --- |
| Program | Computer science |
| Degree type | B.S. |
| Credits needed to graduate | 60 |
| Cost per credit* | $478 |
* cost per credit and total cost are calculated using tuition per credit for the current academic year. It does not include associated fees, course materials, textbook expenses, and other expenses related to courses.
Ranked top 10 in the nation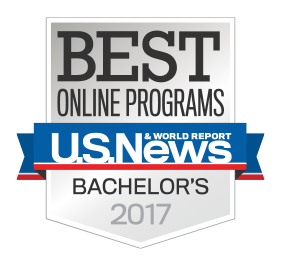 OSU Ecampus earned a top 10 ranking for the third year in a row on a list of America's best online bachelor's programs. Learn more »