Oregon State University Ecampus • OSU Degrees Online
---
Admissions: B.S. in Computer Science – Online (Post-baccalaureate)
This is a post-baccalaureate program, meaning you will earn a second bachelor's degree after completing all degree requirements.
Admissions requirements
A four-year bachelor's degree
A minimum accumulated GPA of 2.75 in your existing Bachelor's degree
Personal statement of 150 to 200 words describing how your past academic performance meets the admission requirements, current occupation and your motivation for pursuing the computer science degree
Students must also meet the minimum math, writing, and communication requirements in their existing prior degree⁺.
Math requirements
Applicants must have completed one or more of the following math requirements in their existing prior degree. Please use OSU Transfer Course Search if you have questions regarding a math course equivalency to MTH 111 or above.
| Math course | OSU course equivalency and grade requirements from your existing degree⁺⁺ |
| --- | --- |
| College algebra or pre-calculus | MTH 111 with B or above |
| Calculus or above | MTH 241, MTH 245, MTH 251, MTH 252 and above with a C or above |
| AP Calculus | Minimum test score of 3; must be on the transcript or submitted along with the application to OSU admissions |
Writing and communication requirements
Domestic applicants must meet both writing and communication requirements. International applicants or domestic students with degrees that did not require English as the medium of instruction are required to demonstrate English proficiency with a passing TOEFL score.
| Writing and communication courses | OSU course equivalency and grade requirements⁺⁺ |
| --- | --- |
| Written English | WR 121 with a C or above |
| Communication | COMM 111 or COMM 114 with a C or above |
NOTE: Meeting the minimum admissions requirements does not guarantee your admission.
⁺ We encourage students to apply with their current qualifications and not take any courses to meet the minimum requirements. However, our application review is comprehensive. We encourage you to apply if you are confident that you can provide rationale in your personal statement describing how your academic performance in your prior degree meets the admission requirements.
⁺⁺ Courses unavailable or marked LDT or UDT on the transfer course search will go through an evaluation to verify their equivalence to OSU courses.
Application process
Post-Baccalaureate Students: Students will be seeking admission into pre-CS major by applying as a distant post-baccalaureate student. According to university requirements, students cannot earn a post-baccalaureate degree in the same field of their prior degree.
International Post-Baccalaureate Students: If you are not a US Citizen or Permanent Resident, but currently in the U.S. on any U.S. visa, please contact the Office of International Admissions before applying to a degree program. Please review the International Admission Requirements before submitting the application. Please contact the International Admissions Office if you have any questions.
Non-degree seeking students: There is a petition process for taking courses. Please review the information for non-degree seeking students first before you apply for admission.
Departmental application deadlines
All the application materials must be received and reviewed for completion by the deadline date by Oregon State University's Admissions Office. This includes the application and transcripts from all the colleges attended.
| Term | Begins | Deadline to Apply | Admission Decision Release* | Deadline for Acceptance Confirmation by Student** |
| --- | --- | --- | --- | --- |
| Fall | September | August 1 | August 1 - September 5 | September 10 |
| Winter | January | November 1 | November 15 - December 15 | December 20 |
| Spring | March/April | February 1 | February 10 - February 28 | March 10 |
| Summer | June | May 1 | May 1 - May 31 | June 5 |
* Students will be notified of their admission status by the Office of Admissions.
** Students are required to confirm their admission acceptance by completing the program enrollment surveys.
** Due to capacity issues resulting from late acceptance confirmation, applicants may have to defer their admission application to a future term or reapply if they are spring admits.
Note: if a deadline date falls on a weekend or holiday, the application deadline is automatically extended to the next business day.

Features and Navigation
Academic calendar
Currently it's fall term. See academic calendar for our quarter term schedule.

Winter term starts Jan. 8, 2018.
Spring term starts April 2, 2018.
Degree details
| | |
| --- | --- |
| Program | Computer science |
| Degree type | B.S. |
| Credits needed to graduate | 60 |
| Cost per credit* | $478 |
* cost per credit and total cost are calculated using tuition per credit for the current academic year. It does not include associated fees, course materials, textbook expenses, and other expenses related to courses.
Ranked top 10 in the nation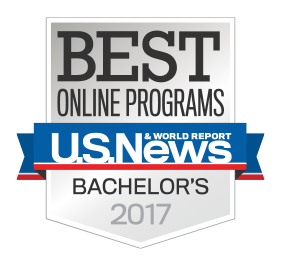 OSU Ecampus earned a top 10 ranking for the third year in a row on a list of America's best online bachelor's programs. Learn more »