Oregon State University Ecampus • OSU Degrees Online
---
Tuition and Fees: B.S. Computer Science – Online
2017-2018 academic year tuition and fees for computer science
Student status/course type
CS 101, CS 195, CS 199 (CS 162
companion course), CS 391 – Non-professional program CS courses
Professional program computer science (CS) courses
Postbaccalaureate students in the
computer science (CS) professional program
$322/credit Pre-engineering

$339/credit Pro-school admitted students
$478/credit
Other College of Engineering Corvallis
& CS Cascades on-campus Student
$322/credit Pre-engineering

$339/credit Pro-school admitted students
$322/credit Pre-engineering

$339/credit Pro-school admitted students
Non-engineering OSU students
(Corvallis campus, Cascades campus and non-degree seeking students)
$288/credit
$478/credit
On-campus students
Ecampus tuition is charged at a separate rate from your on-campus tuition and fees and is based on the fixed, per-credit rate stated above. Ecampus courses are full price regardless of the number of other credits that students take during the term.
Information for new students
Once you have been admitted to OSU as a degree-seeking student, there are initial fees that will be required:
Advance Tuition Deposit (ATD)
Postbaccalaureate students are exempt from the Advance Tuition Deposit (ATD) requirement.

If you are a transfer student, paying your ATD will trigger a transcript evaluation by the Office of Admissions.
For Degree Partnership Program (DPP) students: Payment for your Advance Tuition Deposit is required once you have been admitted. Your status will remain active provided you enroll in a class at OSU within the next 10 terms. The deposit will be applied to your OSU account in the term of registration.
For more information on the ATD and how to submit your payment, read the advance tuition deposit instructions.
Matriculation fee
The first time you register as a degree-seeking student at OSU, you will be charged a matriculation fee.
| | |
| --- | --- |
| Undergraduate Matriculation Fee | $350 |
| Graduate Matriculation Fee | $350 |
What are the services associated with the distance education fee?
Ecampus courses are totally supported by tuition and fee revenue. Tuition and fees for Ecampus courses are set at levels necessary to cover the direct costs of providing the courses. The distance education fee covers items necessary to the delivery of distance courses, such as: the development and production of online courses, learning management system licensing fee, financial and registration services and online/telephone student services.
Questions?
If you have any questions, please contact Ecampus at 800-667-1465 or ecampus@oregonstate.edu.

Features and Navigation
Academic calendar
Currently it's fall term. See academic calendar for our quarter term schedule.

Winter term starts Jan. 8, 2018.
Spring term starts April 2, 2018.
Degree details
| | |
| --- | --- |
| Program | Computer science |
| Degree type | B.S. |
| Credits needed to graduate | 60 |
| Cost per credit* | $478 |
* cost per credit and total cost are calculated using tuition per credit for the current academic year. It does not include associated fees, course materials, textbook expenses, and other expenses related to courses.
Ranked top 10 in the nation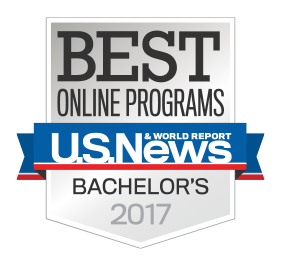 OSU Ecampus earned a top 10 ranking for the third year in a row on a list of America's best online bachelor's programs. Learn more »