Earn a minor in Sociology online through Extended Campus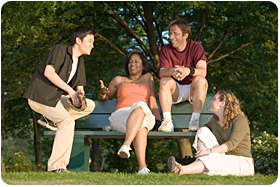 We invite you to discover the flexibility and ease of completing a Sociology minor online as part of your undergraduate degree program.
In cooperation with the OSU Department of Sociology, we offer over 18 Sociology courses online.
Application to all disciplines
Sociology is an exciting discipline that explores the study of human society, social forces and social interaction. Sociology fits comfortably into the missions of a liberal arts or natural resource education because it focuses on how human values and community are shaped by class, gender and ethnic differences, as well as more abstract social forces such as modernization and globalization.
The Sociology faculty also strive to provide a unique experience to their online students. In fall 2005, Sociology instructor Becky Warner and her SOC 204 class traveled to Bulgaria and shared cross-cultural experiences online with Olga Rowe's Ecampus Sociology course. Read more about how Sociology Instructors Connect International Students and Cultures.
Visit the Sociology Curriculum page for requirements and course details or view all of our online courses in Sociology.