Oregon State University Ecampus • Degrees Online
Ecampus fact
Unmatched student support
Learn how you'll be supported by Ecampus from application through to graduation.
2004 Ecampus Graduates
Kim Landry - BS Natural Resources
You might say Kim Landry, who graduated June 13 from OSU with a degree in Natural Resources, is a woman of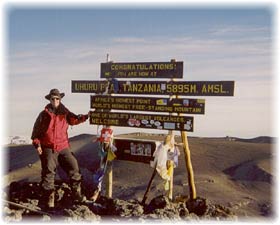 many interests. Landry, who has worked as a police officer for the Los Angeles Police Department for the past 16 years, will use her newest degree to pursue a second career when she retires from the LAPD in a few years. She will apply to Michigan Technological University's Master's International program, which combines coursework in Forestry with two years of Peace Corp service. After completing that program, she hopes to begin working internationally in forestry or environmental conservation.
Volunteering and being on foreign soil is nothing new to Landry, 43, an avid adventurer and world traveler. Just a few of her recent "expeditions" have included: climbing to the top of Mt. Kilimanjaro in Africa (right), sea kayaking in Antarctica (below), glacier walking in Iceland, and volunteering in the jungles of Vietnam for the organization Earthwatch.
Landry said she wouldn't have been able to get her degree in Natural Resources from a school other than OSU, as it was the only one that offered the degree totally at a distance. As a full-time career person, the on-site options were just not viable. "The quality of courses was outstanding. I think I got a better education through the OSU distance education program than I did going to traditional night school for my other degrees…"
Landry, who lives in Ventura County, California, took time out of her busy life to travel to Corvallis to attend commencement ceremonies and meet her Natural Resources professor and mentor, Dr. Bob Ehrhart.

Features and Navigation
Academic calendar
Currently it's fall term. See academic calendar for our quarter term schedule.

Winter term starts Jan. 8, 2024.
Spring term starts April 1, 2024.
Ranked top 10 in the nation
OSU Ecampus earned a top 10 ranking for the ninth year in a row on a list of America's best online bachelor's programs. Learn more »