Oregon State University Ecampus • Degrees Online
Student resources
Need a little support?
Our student success coaches can help you navigate challenges as you learn online.
2007 Ecampus Graduates
Amy Ammer - Improving Natural Habitats
Career Update December 2008
After completing her B.S. online in Natural Resources, Amy shares how her Ecampus degree helped her become a Habitat Restoration Specialist.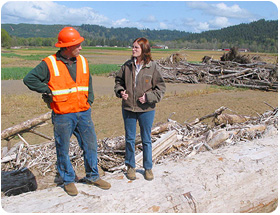 Describe your Ecampus degree experience: I selected OSU Ecampus after an extensive search of long-distance, evening and intensive programs in Natural Resources, Ecology and Forestry programs. I had graduated with a bachelor's in English from Western Washington University in 2003, and was interested in working in the resource management field. English didn't get me in the door. I selected OSU's program because it was a reputable university, with a College of Forestry and a Natural Resources program. That was precisely what I was looking for.

At the time I started at Ecampus, I was living in a small town in coastal Washington and working full time. I continued to work full time while I took one to three classes per quarter for almost three years. Ecampus allowed me the freedom to work, start a family, build a house and start on my career path while still working on my degree.
Why did you choose your specific degree program? What were your career goals when you were a student? I studied Natural Resources because I continue to live in a rural area and needed a broad degree title that fit many career paths from research to regulation. Natural Resources courses suited me for a broad range of options in the real world. I did not settle on a specific career goal while I was a student because I was not sure what jobs would be open to me as I moved into my career.
Describe your current location and job search experience: I still live in my small coastal town. I have discovered, partially while I was learning with Ecampus, the broad resource community in my neighborhood. Before I finished my program with Ecampus, I took a job with Pacific County in their planning department. Planning allowed me to become more familiar with environmental and resource regulations regionally and statewide. Shortly after obtaining my degree with OSU Ecampus in June 2007, I applied for and was hired by the Columbia River Estuary Study Taskforce (CREST), in Astoria, OR.
I am currently a Habitat Restoration Specialist, which translates to project management for two large restoration projects in the Columbia River Estuary. I read about the opening in the Daily Astorian, a local newspaper. I also searched the federal listings at usa.gov, state agency employment sites and volunteered with different organizations to network.
How has your Ecampus degree helped you perform your job duties? I coordinate all aspects from engineer selection to construction oversight. It is challenging and fulfilling. The particular Ecampus classes I found most helpful were in Ecological Restoration, Dr. Erhart's classes in leadership and desert watershed management (even in the Pacific North-Wet!) and anything to do with community outreach and ethics. My duties require me to be focused, detail oriented and self-motivated, all things that an Ecampus student needs as well.
What makes you enjoy your job? I love being able to go out to rivers and know that my work is helping to improve salmon habitat. I love working with all kinds of people in all kinds of situations, all over the region. I love the schedule flexibility, the job satisfaction and the pleasure I find in working with students getting excited about new things. This is probably an ideal job for me and there isn't much I don't like.
What would you say to current Ecampus students who are still working toward their degrees and career goals? Be persistent, confident and patient. Realize that it takes time to build up the resume that will get you your dream job.
Back to Commencement 2007. Discover more about the Ecampus experience by reading Student Profiles.
Learn more about our online B.S. in Natural Resources.

Features and Navigation
Academic calendar
Currently it's fall term. See academic calendar for our quarter term schedule.

Winter term starts Jan. 8, 2024.
Spring term starts April 1, 2024.
Ranked top 10 in the nation
OSU Ecampus earned a top 10 ranking for the ninth year in a row on a list of America's best online bachelor's programs. Learn more »