Oregon State University Ecampus • Degrees Online
Ecampus fact
Built for online
Choose from nearly 2,000 courses — all of them intentionally designed for online delivery.
2007 Ecampus Graduates
Deborah Barnhart-Invaluable Experience
Ed.M. Adult Education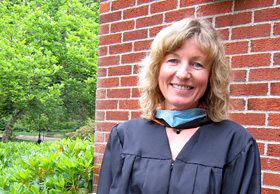 What does completing your degree mean to you? How do you feel it will improve your career, life, etc.?
I am very excited to complete my master's degree in Adult Education. For the last 25 years, I have worked with Spanish-speaking migrant families, translating in the medical field and teaching adults for a literacy project with Portland Public Schools. However, my undergraduate degree was completed 20 years ago, and my employer was requiring me to pursue an advanced degree. I would never have had this opportunity if it hadn't been for the OSU Extended Campus program. What I have learned in this program has proven to be invaluable in the work I do with migrant adults. As the Spanish-speaking population increases in Oregon, I foresee many possibilities to train and teach adults in the future. I have been offered a new position with the school district, allowing me to earn more. Being a single parent, this comes at an opportune time as my sons approach their university years. This program has had a profound, positive impact on both my career and my family life. My sons are so proud of their mom who completed her master's degree and I am thrilled I was able to be a model of life-long learning at any age.
Why did you choose to complete your degree online through OSU Extended Campus? What did you like about this method of education?
I chose to complete my degree online through Ecampus because it allowed me to work full time and still participate in the program. The program design was excellent because it was spread over almost three years, allowing for time to complete assignments and practice what was being taught in the different classes. Another benefit to the Ecampus approach is that it brings people from all over the state to study together. I am confident that I have made life-long friends in this program. I would not have been able to pursue my degree if I would have had to quit my job and move to a university campus to study. This option was the perfect fit for my family.
Did you have an instructor or advisor who was influential in helping you succeed as a distance student?
All of the professors and staff members in this program were helpful, friendly and instrumental in my degree completion. One of the staff members I relied on most was Moina McMath-Walton, who answers the phone at the 800 number for Extended Campus. Over the three years I participated in this program, she not only served as an invaluable resource, but also as a counselor, compassionate listener, excellent problem-solver and friend. A huge thanks to you, Moina, and may you inspire others as you have inspired me!
Learn more about our distance Ed.M. in Adult Education.

Features and Navigation
Academic calendar
Currently it's fall term. See academic calendar for our quarter term schedule.

Winter term starts Jan. 8, 2024.
Spring term starts April 1, 2024.
Ranked top 10 in the nation
OSU Ecampus earned a top 10 ranking for the ninth year in a row on a list of America's best online bachelor's programs. Learn more »