Oregon State University Ecampus • Degrees Online
Ecampus fact
Unmatched student support
Learn how you'll be supported by Ecampus from application through to graduation.
2007 Ecampus Graduates
Heather Andrews-Helping Others
B.A. in Liberal Studies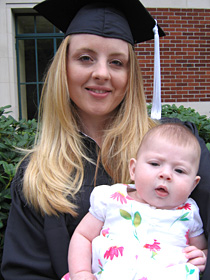 What does completing your degree mean to you?  How do you feel it will improve your career, life, etc.?
Completing my degree is very important to me. I wanted to complete my degree in psychology, but it was not offered online, so I had to change to liberal arts to finish. It is so exciting that I will finish this part of my education. I want to become a counselor for children and families. This year my husband and I adopted a baby girl and it made me excited that I could work in a career where I can help situations where young children will benefit. We adopted our baby from a 17-year-old and she is a part of our family as much as our new daughter. Right now, we are helping her get into college.  This is what it means to me to get my degree: I can help others in my profession and give young people hope in their future. My degree will help me tremendously with my children and family. I will be able to use critical thinking skills in my life and teach my children to do the same.
Why did you choose to complete your degree online through OSU Extended Campus?  What did you like about this method of education?
My husband and I both attended Oregon State on campus when we met. He graduated before me and moved to Florida for chiropractic school. When we got married, I moved to Florida also. I wanted to be a graduate of OSU, so I finished online. It has been a wonderful experience. In fact, I liked classes online  better because I liked being able to read lectures and refer back to my computer. I felt as though I interacted with other students more online than on campus because I would find study groups on campus, but had a hard time finding people that would really focus on studying. Online students were more focused and would stay with the material because we were direct when typing to each other.
Did you have an instructor or advisor who was influential in helping you succeed as a distance student?
Yes, I had instructors almost every term that were very influential and helpful in my success as a distance student. I was amazed at the understanding and positive attitudes that were evident in all the instructors online, as well as the staff for the distance students. They were all so helpful with anything I needed for class and it was easy to resolve any problems with test taking. It was a wonderful experience being an online student and I have recommended it to several others.
Learn more about our online B.A. in Liberal Studies.

Features and Navigation
Academic calendar
Currently it's fall term. See academic calendar for our quarter term schedule.

Winter term starts Jan. 8, 2024.
Spring term starts April 1, 2024.
Ranked top 10 in the nation
OSU Ecampus earned a top 10 ranking for the ninth year in a row on a list of America's best online bachelor's programs. Learn more »