Oregon State University Ecampus • Degrees Online
Ecampus fact
Built for online
Choose from nearly 2,000 courses — all of them intentionally designed for online delivery.
2007 Ecampus Graduates
Leonard Rice-Third Time's a Charm
B.S. in Natural Resources
Like most teenagers right out of high school, Leonard Rice started college, but could neither afford it nor choose a concentration. He again tried to continue his degree four years later, but by this time, he had a family and was living in rural New Mexico. When he landed a job at New Mexico Department of Game and Fish, he knew a degree would be the only key that would earn a promotion out of his entry-level job, but the nearest university was over an hour away.
Leonard presumed he had hit a wall, but was able to see a bright future again when he learned of Oregon State University Extended Campus. "I had basically given up on obtaining a degree until I found OSU's Ecampus," Leonard says.
Through earning his Bachelor of Science in Natural Resource Management online, Leonard realized he could have it all. "It enabled me to acquire the classes I needed while still working full time and raising my family," he says. "Living in a rural area, online learning allows you to work on classes without expending immense amounts of time and money commuting to classes where you must be at a certain place at a certain time. The flexibility lets you do you work when it is convenient for you, not the instructor."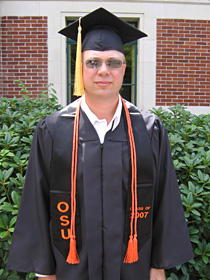 During his last term at OSU, Leonard was promoted to Assistant Manager for the New Mexico Department of Game and Fish and attributes his success to his degree earned through Ecampus. "My determination to achieve my goals was not overlooked," Leonard says. "Having my degree will open many more doors in my career that have previously been closed to me."
Now, he intends to pursue a Master of Natural Resources degree. "I feel that having my bachelor's degree has leveled the playing field in my career for me," Leonard says. "Now I want to make it unlevel in my favor."
The experience not only gave him the chance to earn a bachelor's degree without uprooting his life, but gave him a lesson in accountability. "You have to be self-driven because there is no one there to prod you along and make you complete your assignments," Leonard says.
He also found that Ecampus instructors like Bob Erhart challenged and demanded excellence from his students. "You can tell that many of the instructors believe that distance education is a viable option capable of producing students that are equally as well-educated as those who attend on campus," he says.
Leonard was also among the 2007 Ecampus graduates at June 17's graduation ceremonies on the OSU campus in Corvallis. At the ceremony and receptions, Leonard said he enjoyed finally meeting some of the people who he had only interacted with in discussions and classes in cyberspace.
Learn more about our online B.S. in Natural Resources.

Features and Navigation
Academic calendar
Currently it's fall term. See academic calendar for our quarter term schedule.

Winter term starts Jan. 8, 2024.
Spring term starts April 1, 2024.
Ranked top 10 in the nation
OSU Ecampus earned a top 10 ranking for the ninth year in a row on a list of America's best online bachelor's programs. Learn more »