Oregon State University Ecampus • Degrees Online
Ecampus fact
28,000+ students worldwide
Learn alongside students in all 50 states and more than 60 countries.
2007 Ecampus Graduates
Linda Becker-Meeting That Major Goal
MAT in Elementary Education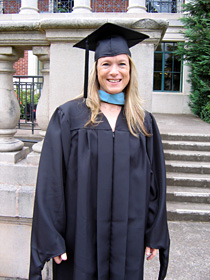 For 2007 Master of Arts in Teaching graduate Linda Becker, the path to her degree did not start directly out of high school. For her, it took a little bit of the real world for her to recognize life's potential with an education.

"It was in my early 20s when I realized the power of education and my desire to become a teacher," Linda says. "I had been waitressing since I was 16 years old and realized that I wanted to do more in life."

With this in mind, Linda entered Southwestern Oregon Community College on the Oregon Coast, and graduated with an Associate of Art, Oregon Transfer degree in 1996 and then went on to Berea College in Kentucky where she received her bachelor's in English in 1998. It was here that life put her pursuit of becoming a teacher on hold, as Linda became a mother. The birth of her daughter made Linda realize she needed to make her life-long dream a reality, not only for herself, but especially for her daughter.

Now, after completing the two-year, part-time program, Becker, 37, will leave her home in Bandon, Ore. and begin teaching 4th grade this August in Holbrook, Ariz. on the largest Indian reservation in the United States, The Navajo Nation, where she says she will continue her aspirations as a life-long learner while being immersed in the Native American culture.

As a single mother of a 4-year-old, Linda had limited options when she decided to pursue her master's degree and says taking courses online allowed her to work on coursework when it was convenient for her while she continued working full time and caring for her daughter. "The necessity of working on coursework at night after my daughter went to bed or on the weekends was imperative to my success in becoming a teacher," she says.

Linda admits she was nervous before she started online classes, but that her concerns were quickly lifted when she began to fully understand the advantages to this unique type of learning. "I found that my fear in relation to communication and class discussions was replaced with an abundance of online group collaborations of persons with varying experiences, ideas, questions and responses to our online coursework and classroom experiences," Linda says. "In fact, in contrast to a classroom experience, I believe that for some people, online allowed them to voice concerns or elaborate on assertions that maybe they would not have normally had they been in a classroom setting."

She also credits College of Education professor Nora Cohen for her assistance and availability while earning her master's at a distance. Linda adds that, "Without her constant assistance via email and even sometimes via phone, I would not have been able to successfully complete this program and at the level of success that I have been able to achieve."

Linda traveled from the Oregon Coast to the OSU campus in Corvallis for June 17's graduation ceremony. As she was entering the stadium, she recalls her feelings: "I did it. I really did it. I began, I didn't quit, I didn't let fear win. I pushed through when it was hard, and I did it, and now I'm a teacher and I'm graduating with my master's degree!"
Learn more about our distance MAT in Elementary Education.

Features and Navigation
Academic calendar
Currently it's fall term. See academic calendar for our quarter term schedule.

Winter term starts Jan. 8, 2024.
Spring term starts April 1, 2024.
Ranked top 10 in the nation
OSU Ecampus earned a top 10 ranking for the ninth year in a row on a list of America's best online bachelor's programs. Learn more »