Oregon State University Ecampus • Degrees Online
2007 Ecampus Graduates
Steve Slover-OSU Pride
Ed.M. Adult Education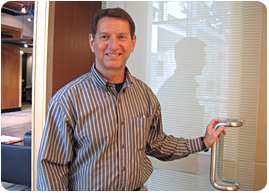 What does completing your Ed.M. degree mean to you?
I have a great sense of pride and accomplishment in completing this program. I have pride in the program coming from OSU and a strong sense of personal accomplishment, as an older adult returning to academics and finding success in this program.
How do you think it has improved your career, life, etc.?
As a result of the Ed.M. program at OSU, I have gained tremendous respect for the process of collaborative-based group learning and self-organized learning. I also believe I have increased my marketability in the workplace with my Ed.M. degree.
Why did you choose the distance Ed.M. program through OSU College of Education and OSU Extended Campus?
The program was designed for working adults and had just the right combination of flexibility and definition. This program worked very well for me and still allowed for some personal work/life/academic balance.
What did you like best about the program and the method of teaching?
The program emphasized self-organized learning through a collaborative community-based learning culture. I liked the approach of working in groups and small teams because this approach simulates real work environments. The program also had students representing a variety of past and present work experiences. This diverse background enabled a variety of learning experiences that went beyond the classroom.
Did you have an instructor or an advisor who was influential in helping you succeed?
All the instructors in the program were very knowledgeable of their subject area. One instructor, Jennifer Webster, stood out for me in this program. Not only did Jennifer model what she taught, she was also extremely positive, energetic and supportive of her students. Whenever I needed a confidence boost or direction on a project, Jennifer was always available to coach and guide.
Learn more about our distance Ed.M. in Adult Education.

Features and Navigation
Academic calendar
Currently it's fall term. See academic calendar for our quarter term schedule.

Winter term starts Jan. 8, 2024.
Spring term starts April 1, 2024.
Ranked top 10 in the nation
OSU Ecampus earned a top 10 ranking for the ninth year in a row on a list of America's best online bachelor's programs. Learn more »