Oregon State University Ecampus • Degrees Online
Ecampus fact
Ranked top 10 in the nation
Oregon State is ranked on a list of America's best online bachelor's programs for the ninth year in a row.
2007 Ecampus Graduates
Theresa Culbertson-Teaching in Today's World
Ed.M. Adult Education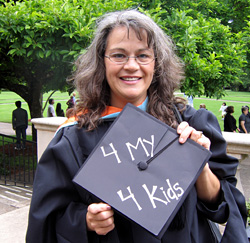 To say that 2007 Master's in Adult Education graduate Theresa Culbertson has a lot to juggle would be quite an understatement. As a wife, a mother of four, part-time teacher at Portland Community College with another part-time job, a traditional master's degree program was ruled out as an option.

But to refresh her teaching techniques, Theresa looked into the OSU Extended Campus program held at the Wilsonville Training Center in Wilsonville, Ore. on the first or second weekend of each month. She was able to find an ideal degree program through this program which allowed face-to-face interaction combined with online elements.

"Online learning is wonderful for the busy lifestyle," Theresa says. "I did not want to be away from my family two nights a week and every Saturday. I was needed to transport kids to and from activities, have time with my children and husband, help with homework and provide a stable living situation at home. Online learning allowed me to access the learning when it was convenient."

With the degree she earned with her three-year cohort, Theresa plans to use her new skills to revamp her methods of teaching. "Spending this time studying, debating, discussing and applying the latest educational methods has made me a better teacher," Theresa says. "I was able to reflect on my learning philosophy, discover ways to implement new ideology and be energized in the process."

Through her successful experience earning her degree through Ecampus, Theresa has been inspired to build on the popularity of distance learning and take a class in designing online learning courses.

Theresa was one of the master's degree recipients to participate in graduation on June 17 in Corvallis. At the ceremony, she said, "It was nice to be on campus to see the buildings and feel a part of the community."
Learn more about our distance Ed.M. in Adult Education.

Features and Navigation
Academic calendar
Currently it's winter term. See academic calendar for our quarter term schedule.

Spring term starts April 3.
Summer term starts June 26.
Ranked top 10 in the nation
OSU Ecampus earned a top 10 ranking for the ninth year in a row on a list of America's best online bachelor's programs. Learn more »