Oregon State University Ecampus • Degrees Online
Ecampus fact
100+ degree programs
Explore all of Oregon State's high-quality online degrees, programs and microcredentials.
2008 Ecampus Graduates
Cheryl Lambert - The Edge Over the Competition

Career Update December 2008

After completing her B.S. online in General Agriculture, Cheryl shares how her Ecampus degree helped her become a District Conservationist for the U.S. Department of Agriculture.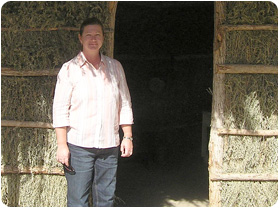 Describe your Ecampus degree experience: My Ecampus coursework was in the College of Agricultural Sciences with a major in General Agriculture.  Since I was a post-bacc student, I was able to design my coursework to suit my needs to earn a second bachelor's degree. I took my classes via Ecampus from my home in Salinas, CA while working full time for the U.S. Department of Agriculture, Natural Resources Conservation Service and caring for my family.  The agency had asked me to take an additional 24 upper division undergraduate units to meet requirements for my career as a Natural Resource Manager and Soil Conservationist.  I chose OSU Ecampus because one of my colleagues in California had been asked to return to school in order to fulfill these requirements.  I had already earned an Executive Master of Business Administration from another private university via their distance learning program, and had a great experience.
Why did you choose your specific degree program?  I chose the Ecampus General Agriculture program because it was one of the first totally online programs in the country that fit my unique needs for flexibility, relevant courses and credibility.  I was able to customize my coursework around the Baccalaureate Core courses and satisfy my own curiosity for sustainable agriculture, natural resource and science-based knowledge.  My faculty advisor, Wayne Fanno, was always available and supportive, and I made a special effort to visit the campus to meet with him face to face and connect to the OSU campus community.
Describe your current location and job search experience: In October 2008, I was rehired by the USDA, Natural Resources Conservation Service (NRCS) in Arizona as a District Conservationist.  Presently, I am living in Yuma, AZ and I am the new District Conservationist at the USDA's Yuma Service Center.
I found the District Conservationist position through a website which the U.S. Office of Personnel Management maintains for federal agencies called usajobs.gov.  Most federal civilian positions are advertised here.  The hiring manager called me, and I was able to interview over the phone and be considered for the job.  The government allowed me to move to Yuma and set up a household to return to work for the NRCS.  This opportunity is a chance for advancement in my career.
How has your Ecampus degree helped you perform your job duties?  I would not have been considered qualified for my current position without my Bachelor of Science in General Agriculture.  The Ecampus degree gave me an edge over the competition.  The classes I took in ecology, soils, food crops, biology, sustainable agriculture, leadership and chemistry enhanced my horticulture and business management background.  I am helping landowners, farmers, ranchers and other agencies apply conservation practices, as well as providing services for technical and financial assistance to those in need in three counties.
What makes you enjoy your new job?  I have been on the job for three weeks at this time, and I have a lot to learn.  I am becoming familiar with my new coworkers, the area and the natural resource concerns in the desert Southwest.  This is big change from my previous location on the central coast of California, although many aspects of agriculture overlap between the two areas.  My favorite part of the job is conservation planning and getting conservation on the ground.
What would you say to current Ecampus students who are still working toward their degrees and career goals?  My advice to current Ecampus students would be to be persistent, stay focused on your goals and stay in touch with your faculty advisor.  I was able to set up a custom internship between the OSU Ecampus and the NRCS to finish my NRCS Conservation Planner Certification.  This allowed me to earn six college credits, fulfill a requirement for my career and qualify for my new job.  I actually enjoyed taking classes and learning through OSU Ecampus.  That is what really matters.
Back to Cheryl's Graduation Profile or Commencement 2008. Discover more about the Ecampus experience by reading Student Profiles.
Learn more about our online B.S. in General Agriculture.

Features and Navigation
Academic calendar
Currently it's fall term. See academic calendar for our quarter term schedule.

Winter term starts Jan. 8, 2024.
Spring term starts April 1, 2024.
Ranked top 10 in the nation
OSU Ecampus earned a top 10 ranking for the ninth year in a row on a list of America's best online bachelor's programs. Learn more »