Oregon State University Ecampus • Degrees Online
Student resources
Interested in success coaching?
Undergraduate Ecampus students can request coaching services to improve academic success.
2012 OSU Ecampus graduates
Amanda Kincade – Diploma + experience = the 'upper hand'
B.S. in Human Development and Family Sciences
Pendleton, Ore.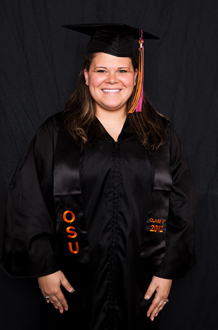 What does earning your OSU degree mean to you?
It means the world to me, as I will be the first in my family to earn a college degree. It also means that I will be able to obtain a career to support a happy and comfortable life for me and my family. My degree is also something that I have done for myself, by myself by making sure that I finish my degree, even when the funds and resources are not easily attainable to me.
Why did you choose to complete your degree online through OSU Ecampus? What did you enjoy about this method of education?
I chose to do OSU Ecampus so I could move closer to home and our ranch, and also so I could do my internships in a location that I hope to find future employment. It was also very important to my husband that I continue through OSU Ecampus while still maintaining our family. I enjoyed the freedom of Ecampus so that I could fit my internships and employment into my own schedule.
Did you have an instructor or advisor who was influential in helping you succeed as a distance student?
Brandi Hall and Kim McAlexander were my advisors this past year, and they made the transition from campus to Ecampus much easier. They helped me plan ahead since I wouldn't be able to go in for advising appointments and were always available to answer my questions.
What will your Ecampus degree allow you to do that you were unable to do before?
My degree will allow me to pursue a career in many different companies that I may not have been able to before because I wouldn't have the qualification. I think my degree will also give me great variability in what is available to me as well as an upper hand compared to other applicants because I have extensive training and understanding in my chosen field.
Back to 2012 Ecampus graduate profiles.

Features and Navigation
Academic calendar
Currently it's winter term. See academic calendar for our quarter term schedule.

Spring term starts April 3.
Summer term starts June 26.
Ranked top 10 in the nation
OSU Ecampus earned a top 10 ranking for the ninth year in a row on a list of America's best online bachelor's programs. Learn more »