Oregon State University Ecampus • Degrees Online
2012 OSU Ecampus graduates
Christine Miller – Despite doubts, Floridian wills her way to the finish
B.S. in Liberal Studies
Orlando, Fla.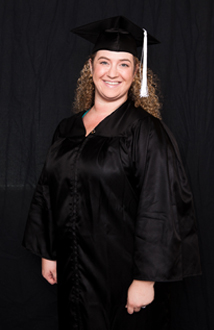 What does earning your OSU degree mean to you?
This means the world to me. I was not the best student when I first attended OSU from 1997 to 2000. I took time off and returned as a more mature adult with the determination to finish my degree. It's a personal achievement in addition to progress in my professional career. With this degree and the 15 years of working experience I have, I now have the full package to offer. I struggled through the last 50 credits of my degree, and there were multiple times during the last three years that I thought I would never make it to graduation or completion of my degree.
Why did you choose to complete your degree online through OSU Extended Campus? What did you like about this method of education?
I chose to complete my degree for a couple reasons: OSU is where I started, and since I was in eighth grade, OSU was my college so for sentimental reasons I had to complete my degree with OSU, I had already completed over two-thirds of my requirements prior to re-entering and completing my degree, and the online format was more appealing because I continued to work full time while finishing school.
Did you have an instructor or advisor who was influential in helping you succeed as a distance student?
My advisor, Kathy Fultz, was extremely helpful throughout my journey of completing my degree. She was prompt in her responses via email or by phone. She always seemed to be available when I needed her. She provided me sound guidance to completing my degree, and she encouraged/congratulated me on small successes or struggles.
What will your Ecampus degree allow you to do that you were unable to do before?
My degree will finally give me the "full" package. For years I have been ineligible for a number of jobs that I qualified for based on my work experience, but I have been taken out of the running because I did not have the required education completed. Completing my degree will help me advance in my career not only gaining more experience but also financially. As for improving my life, the burden of failure is no longer hanging over me, not to mention the renewed confidence in my ability to take on new challenges and see them through to the end.
Back to 2012 Ecampus graduate profiles.

Features and Navigation
Academic calendar
Currently it's winter term. See academic calendar for our quarter term schedule.

Spring term starts April 3.
Summer term starts June 26.
Ranked top 10 in the nation
OSU Ecampus earned a top 10 ranking for the ninth year in a row on a list of America's best online bachelor's programs. Learn more »