Oregon State University Ecampus • Degrees Online
Ecampus fact
Unmatched student support
Learn how you'll be supported by Ecampus from application through to graduation.
2012 OSU Ecampus graduates
Claire Masing – Roller-coaster life is coming up all smiles lately
B.S. in Horticulture
Sacramento, Calif.
What does earning your OSU degree mean to you?
It means that I am proud to show every employer in my future that Oregon is the place where honest, hard-working, wonderful people are born, raised and educated. It means that I am proud to be the first and only person in my family to have earned a degree. Earning a degree from Oregon State means that I have finally reached my goal despite overwhelming odds against me. I have endured homelessness, divorce, disownment from my family, and many other challenges during the years of seeking my degree. I didn't let those hardships stop me from reaching my goal of earn a degree from Oregon State.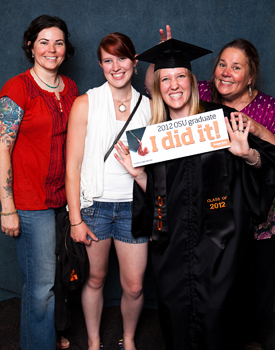 Earning my degree from Oregon State means that all of the nights of working late into the night on schoolwork after working a full day at my job have finally paid off. It means that I am setting myself up for success. I have watched my father struggle to find work as a blue-collar worker; and I will forever be grateful to him for showing me his "Oregon-back-country-work ethic." Earning my degree from Oregon State means that I have given myself a tool to open doors of opportunity for work that were not available to my father as a blue-collar worker. As a result, the children that I dream of having will not have to go without food or clothes as I did as a child. Finally, earning my degree from Oregon State means the world to me as it greatly improves the odds of my future.
Why did you choose to complete your degree online through OSU Ecampus?
I originally went to School on campus at OSU. I was aiming at a bachelor's degree in horticulture. I loved all three years. The rain was beautiful, the campus was beautiful, and I loved every part of my experience there. Then my life changed suddenly as my then-spouse wanted to move from my lifelong home in Oregon to be closer to his family, who lived in California. I knew this would mean a break in my education because I was not willing or able to pay out of state tuition fees. I would have to wait a year to become a resident of California before I would be eligible to pay resident tuition fees. We moved, and I worked two jobs and became a resident.
When I tried to go back to school, I found that the school systems were different in California than in Oregon. I would have to lose a lot of earned credits that didn't fit into the California program, and I would have to go to a community college before I would be eligible for a four-year university. I didn't want to waste the time I had previously spent in school by losing credits, so I didn't enter school right away. I searched for a private university, or an alternative who would accept my OSU credits. After a lot of headache, I contacted the advisor of the Oregon State horticulture program and learned that the following fall they were launching their new Ecampus horticulture program. I was elated to hear about the new program, and signed up for classes right away.
Before I was able to begin classes, my relationship with my husband fell apart, and we divorced, leaving me heartbroken. I delayed school once more to get my feet back on the ground. I then found a good job, and after a lot of heartache I was able to set my life right again. I knew that the next goal was to be to finish my goal of getting my degree from Oregon State. I then re-contacted the Ecampus advisor, and signed up for classes. I since, have not let anything stop me from getting my degree, and I am very grateful for the Ecampus program for making it possible.
What did you enjoy about this method of education?
I enjoyed how seamlessly Ecampus made school fit into my life. I was able to work a full-time job and reach my goals of earning my degree. I loved that I was able to not have to drop any credits as a result of transferring to a California school, and I didn't have to live in Corvallis either.
I was home-schooled as a small child. This means that going to school on campus was rather difficult for me as a result of me not being used to going to lectures and taking note, and attending tests, etc. Online schooling was basically home-schooling for college. This was such an easy transition for me. I loved online schooling.

Did you have an instructor or advisor who was influential in helping you succeed as a distance student?
Kelley Donegan was, by far the most influential teacher throughout my online schooling experience. She taught a tiny little one credit class that was informative about my required internship and finding a job. Through this process, she assigned students to write a resume, and cover letter. She then worked very closely to refine these documents and encourage us to bring out and work on certain skills regarding building a resume and preparing for job interviews.
I am so grateful for Kelley's expertise, and her ability to teach others to successfully find and build careers. As a direct result of Kelley, I applied for a job that I really wanted, but for which I was a little under qualified. Because of my well written resume and cover letter, as well as interviewing skills taught by Kelley, I was able to get the job despite being under qualified. I am very grateful for Kelley Donegan.
What will your Ecampus degree allow you to do that you were unable to do before?
My degree from Oregon State will allow me to get jobs for which I was not previously qualified. In fact, I have already started applying for jobs, and there are so many that sound interesting, helpful to the planet, and pay a fair wage that all require a degree in an earth science field. Currently I am trying to get a job with the environmental Protection Agency. I am so grateful for my soon-coming degree.
Previously, without my degree, I worked as a nanny. While this is a sweet and worthwhile job, my career will be able to go into a direction of helping the planet as a result of my degree.
As a result of my degree I will be able to get a more career-based job, and this will lead to better income. As a result of better income I will be able to quickly pay off debts accrued by school loans, and save money to buy a house. My new spouse and I desire to have children in the next couple of years. I feel honored to be able to raise my children a little bit better than I was raised as a result of my career that was gained as a result of my degree. Perhaps my children will grow up and go to college at Oregon State University.
Back to 2012 Ecampus graduate profiles.

Features and Navigation
Academic calendar
Currently it's fall intersession. See academic calendar for our quarter term schedule.

Fall term starts Sept. 27.
Winter term starts Jan. 8, 2024.
Ranked top 10 in the nation
OSU Ecampus earned a top 10 ranking for the ninth year in a row on a list of America's best online bachelor's programs. Learn more »