Oregon State University Ecampus • Degrees Online
2012 OSU Ecampus graduates
Jeff McPherson – Taking the best of OSU and applying it in real life
B.S. in Natural Resources
Golden, Colo.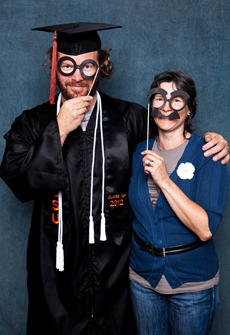 What does earning your OSU degree mean to you?
Earning my degree at Oregon State has allowed me to transition into my desired career field. Earning my degree has not only given me the credentials needed to be eligible for jobs that I am interested in, but it has also given me the confidence and knowledge of natural resources that will allow me to excel in this career field. I am also proud of receiving a natural resources degree from Oregon State because it has an excellent reputation in this field, not only in Oregon, but throughout the nation.
Why did you choose to complete your degree online through OSU Extended Campus? What did you like about this method of education?
I chose the Oregon State Ecampus degree program because the courses were the types of courses that I was looking for to achieve my career goals, and the online format gave me the flexibility to complete my degree while working full time. Oregon State also has a great reputation in the natural resources field and is one of the most progressive universities when it comes to teaching scientific courses online.
The flexibility that the Ecampus format offers was essential for me because my current job requires a frequent amount of travel and a traditional course format would not have worked for me. I also enjoyed the many discussions that I had with students throughout the world coming from many different backgrounds. I felt the diversity of students and their different backgrounds created a unique learning environment that is not found in a traditional classroom.
Did you have an instructor or advisor who was influential in helping you succeed as a distance student?
Marge Victor was my advisor for the Ecampus natural resources program and was invaluable in helping me figure how best to complete my degree. I am a nontraditional, post-baccalaureate student that already had courses that could be applied to my degree program, and also had specific courses that I wanted to take in the program. Marge helped me figure out how best to incorporate my past courses and the specific courses that I was interested in and we were able to create an individual specialization that incorporated previous courses and the specific courses that I was interested in taking. Marge was a joy to work with and I greatly appreciate here advise throughout my degree program.
What will your Ecampus degree allow you to do that you were unable to do before?
Earning my degree from Oregon State has given me the knowledge and the confidence to be more effective at my current job and will give me the credentials to move beyond my current job into other natural resources professions when I decide that it is time to change jobs. Gaining the knowledge and skills acquired through this degree program has not only made me a better employee, but it has also helped me understand more about the natural world we live in. I have always been interested in the natural world and studying and investigating how ecosystems work and how they are affected by humans. My natural resources degree has provided me with the knowledge that will help me do this both in my personal life and professionally.
Back to 2012 Ecampus graduate profiles.

Features and Navigation
Academic calendar
Currently it's winter term. See academic calendar for our quarter term schedule.

Spring term starts April 3.
Summer term starts June 26.
Ranked top 10 in the nation
OSU Ecampus earned a top 10 ranking for the ninth year in a row on a list of America's best online bachelor's programs. Learn more »