Oregon State University Ecampus • Degrees Online
Ecampus fact
1,600+ classes online
Explore all of Oregon State's online course offerings.
2012 OSU Ecampus graduates
Jennifer Glaspey – Busy working mom still finds time to inspire
B.S. in Human Development and Family Sciences
Bend, Ore.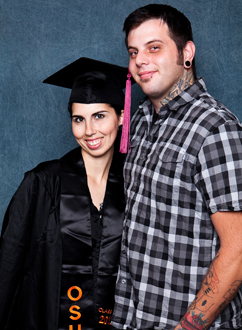 What does earning your OSU degree mean to you?
It means providing a future for me and my children. Also being a role model to them so they can see how going to college is important. If I can work full time and be a single mom, then there isn't an excuse to not attend school.
Why did you choose to complete your degree online through OSU Ecampus? What did you enjoy about this method of education?
I am a single mom and work full time. I didn't want to be away from my children and put them in daycare anymore than I had to. This was a great alternative. I can attend classes whenever and nearly wherever.
What will your Ecampus degree allow you to do that you were unable to do before?
Provide financial stability for me and my children. I am also proud of myself for sticking it out and completing school and I know my kids are, too. I am excited to start a career where I can help others and shine positive light into their lives.
Back to 2012 Ecampus graduate profiles.

Features and Navigation
Academic calendar
Currently it's winter term. See academic calendar for our quarter term schedule.

Spring term starts April 3.
Summer term starts June 26.
Ranked top 10 in the nation
OSU Ecampus earned a top 10 ranking for the ninth year in a row on a list of America's best online bachelor's programs. Learn more »