Oregon State University Ecampus • Degrees Online
2012 OSU Ecampus graduates
Jillian L. Jainga – Told to quit, new OSU grad crosses finish line
B.S. in Human Development and Family Sciences
Conway, Ark.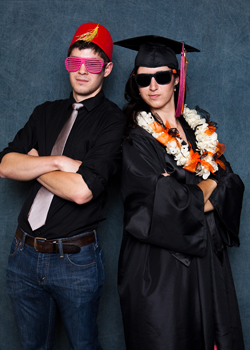 What does earning your OSU degree mean to you?
Earning my degree from OSU is the successful conclusion to a very hard journey. Not many people knew it but even graduating high school was a struggle and my college acceptance letter came long after all of my friends. Getting into college was a relief at first but came with long years of academic and financial stress. There were times where other people and even myself told me to give up and I wasn't going to finish. Finally being able to complete my college career and having my degree says that "I did it." It's a sign of accomplishment and most of all relief to not only myself but the family, friends and support around me. Getting my B.S. from Oregon State means being able to breathe again.
Why did you choose to complete your degree online through OSU Extended Campus? What did you like about this method of education?
I spent four years on the Oregon State Corvallis campus and when life gave me the opportunity to take me across the country at a very young age, the first thought in my mind was school. I was going into my senior year at OSU and after talking to my advisor I learned that my major (HDFS) was recently approved to be entirely online. I was able to continue and finish my degree without having to transfer anywhere and most importantly still be a Beaver!
Did you have an instructor or advisor who was influential in helping you succeed as a distance student?
Brandi Hall has become more than an academic advisor to me throughout finishing my degree. From helping me plan out my schedule, sending me encouraging letters in the mail to listening to me cry in stress on the phone she has always been there to tell me that I can do this and I can finish my education with Oregon State University.
What will your Ecampus degree allow you to do that you were unable to do before?
In today's America you can't do much of anything without a college degree. Getting my degree from OSU will launch me into pursuing what I really want to do with the next part of my life. Everyone around me is graduating and moving on and still having that awkward conversation with family and friends when they think you graduated a year ago is nerve racking. School has always been difficult for me, and having my degree from OSU in my hand tells me, "It wasn't easy, but you can do anything!"
Back to 2012 Ecampus graduate profiles.

Features and Navigation
Academic calendar
Currently it's winter term. See academic calendar for our quarter term schedule.

Spring term starts April 3.
Summer term starts June 26.
Ranked top 10 in the nation
OSU Ecampus earned a top 10 ranking for the ninth year in a row on a list of America's best online bachelor's programs. Learn more »