Oregon State University Ecampus • Degrees Online
Ecampus fact
28,000+ students worldwide
Learn alongside students in all 50 states and more than 60 countries.
2012 OSU Ecampus graduates
Katrina Housheya – Impressive juggling act pays off in a major way
B.S. in Human Development and Family Sciences
Salem, Ore.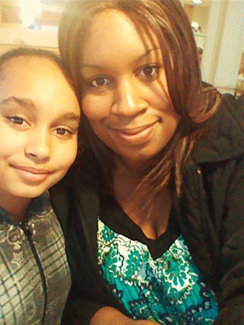 What does earning your OSU degree mean to you?
Earning my degree has been a lifelong goal for me. I will be the first person in my family to graduate with a bachelor's degree, and I am very proud to have achieved this amazing goal. I hope to be a role model for the younger generations in my family so they will know that they can reach their goals and dreams with perseverance and hard work.
Why did you choose to complete your degree online through OSU Ecampus? What did you enjoy about this method of education?
I chose the online degree program because I was able to continue pursuing my educational goals while caring for my disabled mother and my young daughter. Being able to study online allowed me to be able to continue working full time to support my family. I would not have been able to complete school on a traditional campus, work full time and manage my familial obligations.
Did you have an instructor or advisor who was influential in helping you succeed as a distance student?
My advisor, Brandi Hall, has been instrumental in my success at Oregon State University. Whenever I had a question or concern, she quickly found the answer or referred me to the appropriate department. She was with me every step of the way and I greatly appreciate her guidance and diligence.
What will your Ecampus degree allow you to do that you were unable to do before?
My degree will give me the confidence I need when entering into a new career. I will be able to apply for jobs that I was otherwise qualified for but lacked a bachelor's degree. Having access to these jobs will open up doors to higher paying jobs and rewarding careers. My long-term goal is to pursue a master's degree in social work and hopefully return to Oregon State to complete a Ph.D. in Counseling. I am truly grateful for the quality program that Oregon State has offered me. It was more than I expected in an online degree program and has opened up many doors for me and my family.
Back to 2012 Ecampus graduate profiles.

Features and Navigation
Academic calendar
Currently it's fall term. See academic calendar for our quarter term schedule.

Winter term starts Jan. 8, 2024.
Spring term starts April 1, 2024.
Ranked top 10 in the nation
OSU Ecampus earned a top 10 ranking for the ninth year in a row on a list of America's best online bachelor's programs. Learn more »