Oregon State University Ecampus • Degrees Online
Ecampus fact
28,000+ students worldwide
Oregon State Ecampus serves students in all 50 states and more than 60 countries.
2012 OSU Ecampus graduates
Richard Parrish – Fresh from graduation and already in high demand
B.S. in Natural Resources
Spokane, Wash.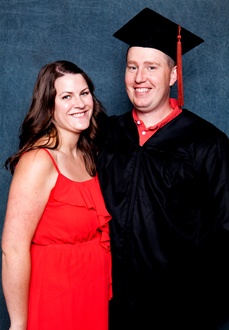 What does earning your OSU degree mean to you?
Earning my B.S. in Natural Resources brings a sense of honor and devotion to both me and my family. I feel honored to be the first member of my immediate family to have made the commitment and devotion in returning to school to receive my bachelor's degree. Without the online program that OSU offers, I can honestly say that completing my degree would have been extremely hard on my family and me.
Why did you choose to complete your degree online through OSU Extended Campus? What did you like about this method of education?
The decision to complete my degree online through OSU Ecampus was an easy decision. OSU has a reputable natural resources program that is respected by land managers and highly promoted by the local community college in Spokane. Not only does OSU have a reputable program, they offer an almost exclusive online program in natural resources. This was a necessity because I had to keep working, attend school and be available for family life with my wife and kids. After much research, I – along with my employer, the Bureau of Land Management, – determined that the online program offered at OSU best met my academic and career goals.
When attending online classes I was unsure what to expect and if it was right for me. I soon learned that with some commitment this learning platform was flexible, allowing me to work my studies around my schedule. The instructors were always understanding and willing to work with my work/life challenges, as they understood that online students face unique challenges. I also enjoyed that at no time did I feel that I was receiving a second-rate education because I was attending online and not on campus.
Did you have an instructor or advisor who was influential in helping you succeed as a distance student?
My academic advisor, Terina McLachlin, was influential in helping me succeed as a distance student through her dedication in ensuring that I was on course for completing my natural resources degree with an individual specialty option. With me being a transfer student, Terina went through my transfer classes, helping to select the correct classes and limiting the need to take additional classes not required for my degree. Terina was always available to answer questions along the way and willing to entertain my thoughts of how to arrange my classes.
Another influential person who helped me succeed as a distance learner early on was my wilderness management instructor, Les Joslin. I was privileged to have Les as an instructor during my second quarter here at OSU. Les took the time to provide honest feedback throughout the quarter, which pushed me to look at both the subject in a different way and to develop writing skills. These skills not only allowed me to succeed as a distance student, but continue today.
What will your Ecampus degree allow you to do that you were unable to do before?
Now that I have a degree in natural resources, I qualify for the 401 Professional Series through government land management agencies. Before I decided to pursue an education here at OSU, I only qualified for technician positions that were limited in both length of time and pay. Not only do I now qualify for additional federal jobs, I am also now more likely to compete in the private sector. Since completing my degree here at OSU I have been offered several positions from private natural resource consulting firms.
With these new opportunities that I have created by pursuing a bachelor's degree here at OSU, I feel that I will be able to continue to advance in my career field. Not only have I created opportunities for my career, my degree also allows for a better quality of life for myself and my family.
Back to 2012 Ecampus graduate profiles.

Features and Navigation
Academic calendar
Currently it's winter term. See academic calendar for our quarter term schedule.

Spring term starts April 3.
Summer term starts June 26.
Ranked top 10 in the nation
OSU Ecampus earned a top 10 ranking for the ninth year in a row on a list of America's best online bachelor's programs. Learn more »