Oregon State University Ecampus • Degrees Online
Ecampus fact
Unmatched student support
Learn how you'll be supported by Ecampus from application through to graduation.
Student Profiles
Nihar Mandavia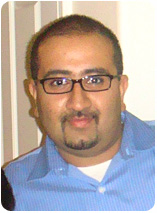 Nihar, who is a pharmacist in Southern California, won our 2007 Extended Campus Website Survey.  Here's the story of how he found OSU Ecampus' convenient and accredited online degrees and programs, and what his plans are now.
How did you find out about OSU Extended Campus?
I came across OSU through Google as I was searching for online biology classes. I looked at the classes and saw that they were something that I could do through distance learning, as they required no on-campus time at all.
Do you plan to take courses online through Ecampus? What courses?
Yes, I do plan to take biochemistry and microbiology online through Ecampus.
What made you choose Ecampus?
Ecampus appears to be user friendly and allows for flexibility, especially for those who are working full-time. Work schedules make it hard to attend class that are on a fixed-schedule or in the morning. This is really significant to me as a pharmacist who works almost 60 hours per week. Ecampus is also lower in cost when compared to other sites that I had visited.
Back to the Student Profiles page.
Get more info on all of our online Degrees and Programs.

Features and Navigation
Academic calendar
Currently it's winter term. See academic calendar for our quarter term schedule.

Spring term starts April 3.
Summer term starts June 26.
Ranked top 10 in the nation
OSU Ecampus earned a top 10 ranking for the ninth year in a row on a list of America's best online bachelor's programs. Learn more »