Curriculum: B.S. Horticulture – Online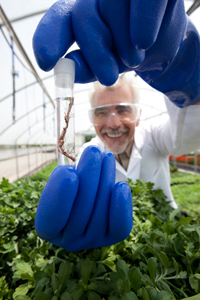 As a major in this online degree program, you will study plant pathology, pest and weed management, soils, ecology, agricultural business and policy within the diverse field of horticulture. You will participate in applied, experiential learning, and our faculty will share their knowledge and research of the latest technologies and trends in the horticulture field.
Students who complete this program will receive a Bachelor of Science in Horticulture from Oregon State University.
Students must complete four main areas in order to graduate:
Baccalaureate core: 33 credits plus a Writing Intensive Course (WIC) of at least 3 credits
Horticulture major core: 71-plus credits
General horticulture option requirements: 43-plus credits

Electives: as needed to meet the 180 credit minimum to graduate
A total of 180 quarter credits are required to graduate, including at least 60 upper division.
To view the horticulture major requirements, please visit Oregon State's official General Catalog. For additional information about the baccalaureate core, please visit our bacc core details page.
Course topics include:
Plant nutrition
Weed management
Wildland plant identification
Organic farming and gardening
Ag safety and health
Natural resources conservation
Food policy issues
Ecology and history
Environmental economics and policy
Biology requirement
This is a science program and it requires a year (two semesters or three quarters) of general biology, including labs, equivalent to OSU's BI 211, 212, 213 "Principles of Biology."

Transfer credit
Some of the degree requirements can be transferred from other colleges and universities. Please note that a minimum of 45 credits of the last 75 must be completed at Oregon State (online or on campus) to meet the academic residency requirement. Previously earned credits will need to be reviewed upon admittance into OSU for appropriate articulation. Additional information about transferring credits is available through the
Single Course Search
tool provided by OSU's Office of Admissions.
Add a minor
OSU Ecampus students have the ability to add a minor to their degree program. OSU offers a diverse selection of minors online. Combine horticulture and a business minor or horticulture plus a geography minor to create an even more powerful resume fit for today's job market.