Oregon State University Ecampus • Degrees Online
Ecampus fact
Unmatched student support
Learn how you'll be supported by Ecampus from application through to graduation.
2009 Ecampus Graduates
Kyle Smith
Sustainable Natural Resources Online Graduate Certificate
Astoria, OR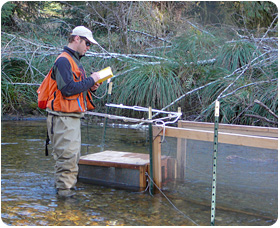 What does completing the Sustainable Natural Resources (SNR) online certificate mean to you?  How do you feel it will improve your life and career?

Completing the SNR program provided me a great sense of accomplishment with the ability to continue learning at a world-class institution.  

What is your professional and educational background?

I have been working in the natural resource field for nine years and hold a Bachelor of Science degree in Forestry from the University of Washington.  I am currently the Assistant Willapa Forester for The Nature Conservancy's Ellsworth Creek Preserve.

Why did you choose OSU Extended Campus (Ecampus) to take online classes toward your degree?

I chose OSU Extended Campus because it offered me the flexibility to pursue an advanced degree by many of the leading scientists in the natural resource field.

What do you like about this method of education?

The ability to work full time while pursuing an advanced degree.

Describe an instance or situation where you think taking courses online is a key advantage over the traditional college experience.
The instructors of each individual class were outstanding, but the real advantage of the Ecampus program was learning from the experiences of other the students corresponding from all over the world.

What would you tell someone who is interested in the OSU Ecampus SNR program?

The SNR program was a great experience and one that I have truly enjoyed.  The course curriculum touched on many facets of the global sustainability question while offering real-world instruction and exercises that can be used in my current natural resource profession.

Did you have an instructor or advisor who was influential in helping you succeed as an online student?  Do you have a favorite course?

My favorite course in the program was SNR 530 Ecological Principles of Sustainable Natural Resources instructed by David Perry.  

What career do you plan to pursue after completing the certificate program?

I plan to continue working in the natural resource field and focus on sustainable forestry and forest restoration.

Back to the Student Profiles page.
Get more info on the Sustainable Natural Resources Online Graduate Certificate or all of our online Degrees and Programs.

Features and Navigation
Academic calendar
Currently it's fall term. See academic calendar for our quarter term schedule.

Winter term starts Jan. 8, 2024.
Spring term starts April 1, 2024.
Ranked top 10 in the nation
OSU Ecampus earned a top 10 ranking for the ninth year in a row on a list of America's best online bachelor's programs. Learn more »