All Chemistry and Lab Courses – Online
Learn more about online chemistry classes
General chemistry sequences
General Chemistry - Level 100
This General Chemistry is a prerequisite sequence for students in a variety of the science and health-related fields. Students with majors in physical science, biological science, environmental sciences, health, exercise, nutrition, nursing and natural resources may require these chemistry survey courses in their program of study.
CH 121 - General Chemistry (5)
CH 122 - General Chemistry (5)
CH 123 - General Chemistry (5)
For a preview of the sequence, view our YouTube video featuring instructor Richard Nafshun.
General Chemistry - Level 200
This higher-level chemistry course sequence focuses on general chemistry concepts and is structured toward students majoring in most sciences, pharmacy, and chemical, biological and environmental engineering. CH 261, 262 and 263 are the corresponding Labs for this online sequence.
CH 231 - General Chemistry (4)
CH 232 - General Chemistry (4)
CH 233 - General Chemistry (4)
Organic Chemistry sequence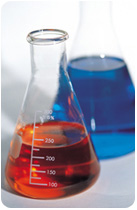 Visit the Online Organic Chemistry pages for complete course sequence information.
CH 331 - Organic Chemistry (4)
CH 332 - Organic Chemistry (4)
Inorganic Chemistry sequence
Through OSU Extended Campus and the OSU Chemistry Department, distance students can complete their Inorganic Chemistry course requirements online.
CH 411 - Inorganic Chemistry (3). Fundamental principles of inorganic chemistry including atomic structure, bonding models for molecules and solids, symmetry, acid/base chemistry, oxidation-reduction, and metal-ligand complexes.
CH 412 - Inorganic Chemistry (3). Descriptive chemistry of the elements, focusing on main-group compounds, transition metal complexes, and solid-state chemistry.
Visit the Online General Chemistry pages for complete course sequence information.
Transfer credit
Many students from other colleges and universities take our chemistry courses online to transfer credit to their home institutions. Oregon State University runs on a quarter calendar with four terms per year, each with 10 weeks per term. Information about transferring credits is available through the Single Course Search tool provided by OSU's Office of Admissions.
Learn more about registering for chemistry courses online.
Other online chemistry courses
The OSU Chemistry Department also offers additional online Chemistry courses through Ecampus. Choose a course to get more info on topics covered and scheduling.
CH 130 - General Chemistry of Living Systems (4). This one-term survey course provides an introduction to organic chemistry and the chemistry of biological systems. It fulfills requirements for many majors in the health professions, but does not count toward a chemistry major or minor. All components of the course, including the lab experience, are completed online. Course covers: acids and bases; alkanes; alkenes; alkynes; aromatic compounds; alcohols and ethers; amines and amides; aldehydes and ketones; carboxylic acids and esters; carbohydrates; lipids; amino acids and proteins; enzymes; biochemical energy; nucleic acids and protein synthesis.
NEW!
CH 140 - General, Organic and Biological Chemistry (6). Students that require only "one semester of Chemistry with labs" should consider taking this class. This 6 quarter-credit class follows OSU's quarter schedule (10 weeks plus finals), and could transfer to a semester school as 4 semester credits.* Examples of majors requiring one semester of chemistry include: Dental Hygiene, Dietetics, Exercise Science and some Nursing programs. This class gives students a foundation in general chemistry, as well as introducing important topics related to the chemistry of living systems. The lab component is included within the course and can be completed fully online. Topics include measurement, energy and matter, nuclear chemistry, bonding, gases, solutions, rates and equilibrium, acids and bases, organic compounds and reactions, carbohydrates, lipids, proteins, enzymes, nucleic acids and protein synthesis, and metabolism.
CH 374 - Technology, Energy, and Risk (3). Decision-making in a technical, democratic society. Discussion of current issues such as acid rain, toxic organic chemicals in the environment and energy resources, etc.
CH 390 - Environmental Chemistry (3). Sources, reactions, transport, effects, and fates of chemical species in water, soil, air, and living environments and the effects of technology thereon.
CH 490/590 - Computer Programming for Scientists (3). Programming, numerical and graphical analysis, problem solving, simulations and use of databases for information handling and retrieval. Applications to problems in chemistry.
NEW - Fall 2014!
CH 582 - Chemistry and Materials in Batteries and Supercapacitors (3). This course focuses on the chemistry and materials currently in use and proposed for primary and secondary batteries and supercapacitors. After a brief historical review, students will examine state-of-the-art technologies including lithium-ion, lithium, and soldium-sulfur batteries and electrochemical double-layer capacitors, and future technologies such as metal-air and lithium sulfur. Class discussions will focus on structure/performance relationships and other issues such as environmental impact, safety and cost.
NEW!
CH 584 - Instruments and Online Interactions in the Physical Sciences (3). This new fully online course is designed for middle school, high school and college-level science instructors, as well as graduate students in STEM education. CH 584 provides professional development and continuing education credits for science teachers in the integration of different technologies for distance delivery of laboratory instruction in science classes. The course focuses on virtual lab delivery, but participants will also evaluate the strengths and limitations of different methods and technologies, such as lab packs and remote instrument access. At class completion, students will have created a portfolio of instructional lab content that can be used in their practice.
View the YouTube video discussing all the online chemistry courses to learn more about which chemistry sequence is right for you.