Organic Chemistry – Online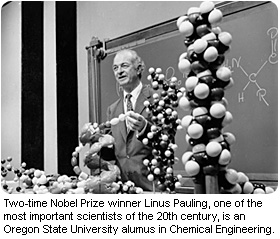 Oregon State University sophomore organic chemistry sequence - Chemistry 331, 332 and 337 - is an upper-level sequence for students in a variety of science and health-related fields. These courses are delivered online by renowned faculty in OSU's Department of Chemistry.
Students can take both Chemistry 331 and 332 completely online.
Chemistry 337 incorporates the sequence's sole lab component and is offered only during Summer Session in two separate formats:
Session 2: blended online/on-site four week format. Weeks 1 and 2 are online. The lab component is administered through a mandatory two week on-site visit to the OSU campus during weeks 3 and 4.
Session 5: fully on-site three week format
Don't have the prerequisites to take CH 331? Check out CH 140 or CH 130; these organic-heavy classes were created for students in health professions. Confirm with your advisor before enrolling to make sure requirements are met.
Valuable asset for pre-professional students
Students aspiring to careers in dentistry, medicine, optometry, pharmacy, chemical engineering, as well as students not majoring in chemistry, require these additional chemistry training courses in their program of study.
Transfer your credits
Many students from other colleges and universities take our chemistry courses online to transfer credit to their home institutions. Oregon State University runs on a quarter calendar with four terms per year, each with 10 weeks per term. Information about transferring credits is available through the Single Course Search tool provided by OSU's Office of Admissions.
Learn more about registering for chemistry courses online.
Review the chemistry website for complete course descriptions.