Oregon State University Ecampus • OSU Degrees Online
---
General chemistry for non-science and science majors
Oregon State Ecampus delivers general chemistry courses online for non-science and science majors which satisfy requirements in a variety of fields.
General chemistry for non-science majors
Students majoring in physical, biological or environmental sciences may require these chemistry courses in their program of study. In addition, students entering health-care fields with a focus on patient care – or in roles such as technicians, therapists, technologists, dental hygienists and dietitians — may require general chemistry.
These classes are geared toward students who have had no previous training in chemistry and for those whose college aptitude test scores indicate the need for a more elementary introduction to chemistry.
The labs are included within each course, saving you time and money while providing ample opportunity for exploration of concepts.
Core classes - non-science
Core classes must be taken in order.
NOTE: Future term data are continually updated. Class offerings may be added, removed, or rescheduled without notice. Check the Schedule of Classes frequently for current information.
Learn more about online chemistry 'virtual' labs at onlinechemlabs.com
Other chemistry classes for non-science majors
Students are expected to have a working knowledge of high school algebra, logarithms and scientific notation before enrolling in a general chemistry class.
General chemistry for science majors
General chemistry for science majors is a higher-level chemistry sequence, focusing on general chemistry concepts. It is structured for students majoring in most science fields and pharmacy as well as chemical, biological and environmental engineering. These classes are the lecture portions of this general chemistry sequence and are available completely online.
Core classes - science
Chemistry labs for science majors
Each lab in the CH 261/262/263 sequence is delivered in an intensive, three-day format designed for Ecampus students to minimize time required on-campus. Learn more about this optional lab series. Completion of the core classes satisfies most of OSU's undergraduate baccalaureate core requirements.
Need more information about the chemistry registration process?
Need more information about online chemistry courses?

Features and Navigation
Academic calendar
Currently it's fall term. See academic calendar for our quarter term schedule.

Winter term starts Jan. 8, 2018.
Spring term starts April 2, 2018.
Featured student
The professors are personable and are really quick at responding to emails and the questions that students ask in the online forum. Everyone is very engaged.
—Kat, Online organic chemistry student in California
Tuition & fees
* cost per credit and total cost are calculated using tuition per credit for the current academic year. It does not include associated fees, course materials, textbook expenses, and other expenses related to courses.
Ranked top 10 in the nation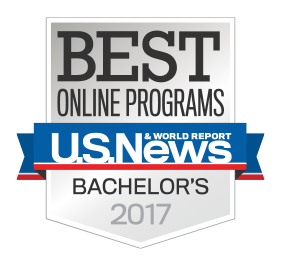 OSU Ecampus earned a top 10 ranking for the third year in a row on a list of America's best online bachelor's programs. Learn more »