Curriculum: General Chemistry – Online
For all of the courses within the online General Chemistry sequences, students are expected to have a working knowledge of high school algebra, logarithms and scientific notation. The courses in each sequence must be taken in order.
General Chemistry - 121, 122, 123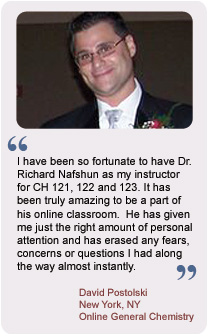 The CH 121, 122 and 123 sequence is geared toward students who have had no previous training in chemistry and for those whose college aptitude test scores indicate the need for a more elementary introduction to chemistry. The Labs for this sequences are included within the online course.
CH 121 General Chemistry (5)
Topics include: Matter and measurement; atoms and elements; molecules, ions, and their compounds; chemical equations and stoichiometry; reactions in aqueous solutions; gases and their properties; principles of reactivity: energy and chemical reactions; atomic structure; and atomic electron configurations.
CH 122 General Chemistry (5)
Topics include: Periodic trends; bonding and molecular structure: fundamental concepts; bonding and molecular structure: hybridization and molecular orbitals; intermolecular forces; solutions and their behavior; chemical kinetics; and chemical equilibrium.
CH 123: General Chemistry (5)


Topics include: Chemistry of acids; aqueous equilibrium; entropy and free energy; electrochemistry; nuclear chemistry; main group elements; transition elements; and carbon chemistry.


General Chemistry - 231, 232, 233
For this course sequence, one year of high school chemistry is a prerequisite. CH 121 is accepted in lieu of high school chemistry.
CH 231, 232 and 233 are the lecture portions of this general chemistry sequence and are available completely online. CH 261, 262 and 263 are the corresponding lab components of the sequence and are hybrid online/on-site courses that require hands-on, on-campus lab experience available in an intensive weekend delivery format. Visit the General Chemistry Labs page for info on completing CH 261, 262 and 263, the lab components of this sequence.
CH 231 General Chemistry (4)
Topics include: Quantum mechanics; periodic table and electronic structure; molecular geometry; chemical bonding; stoichiometry and chemical reactions; scientific theory.
CH 232 General Chemistry (4)
Topics include: Thermochemistry; gases; intermolecular forces and solutions; kinetics; chemical equilibrium.
CH 233 General Chemistry (4)
Topics include: Aqueous equilibria; chemical thermodynamics, chemistry of coordination compounds; electrochemistry; organic and biological chemistry; nuclear chemistry.
*Specific topics are subject to change in the final syllabus.

Instructors
Dr. Richard Nafshun - CH 121, 122, 123
Inorganic Chemistry & Science Education
Visit Dr. Nafshun's Faculty page on the Chemistry Department website.
Read the student reviews of Dr. Nafshun at RateMyProfessors.com.
Margaret Haak - CH 231, 232, 233
Daniel Myles - CH 231, 232, 233
Organic & General Chemistry