Oregon State University Ecampus • Degrees Online
Ecampus fact
Built for online
Choose from nearly 2,000 courses — all of them intentionally designed for online delivery.
2012 OSU Ecampus graduates
Melisa R. Walz – With a family of her own, now ready to help others
B.S. in Human Development and Family Sciences
Portland, Ore.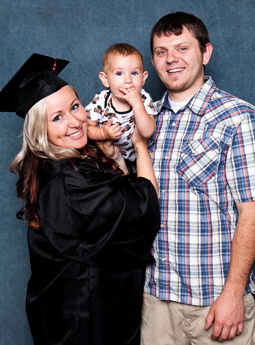 What does earning your OSU degree mean to you?
I decided at the age of 15 that I would attend Oregon State University. I was determined to be a dietician. I finished my associate's degree through Portland Community College and transferred to OSU. I commuted from Portland three days a week and took a full term of classes in Corvallis from 8 a.m. to 9 p.m. After doing poorly my first two terms I had lost hope and confidence in my ability to complete my degree. I was heartbroken.
There I was, after four years of part-time community college, finally at the entrance to the college I dreamed about as a teenager, and I was failing miserably. Now, as I approach graduation, I have an incredible mix of emotions. I am proud, confident and astonished. I made the decision 10 years ago that I would graduate from Oregon State University. I finally did it!!
Why did you choose to complete your degree online through OSU Extended Campus? What did you like about this method of education?
The commute was killing me and making it very difficult to support myself and find time to study. I was unable to relocate from Portland to Corvallis because I got myself into an awful mortgage loan that I couldn't get out of. I felt stuck, and incapable of finishing what I had started over four years prior. It was also during this time that I became pregnant, making the option of commuting for the last two years of my degree even more impossible. I found out about OSU Ecampus and looked into possible majors. I still had my heart set on a career in health, so I wasn't too excited about the online degrees offered. I spoke to an advisor over the phone about my dilemma and she let me know that a brand new degree was being offered online: Human development and family sciences.
It just so happened that all my credits transferred in perfectly. In addition, my pregnancy was getting me excited about having a family and earning a degree in family science seemed to fit perfectly. I excelled in my online classes, a huge accomplishment after my near failing grades while commuting. I have enjoyed each and every one of my online classes and I highly recommend OSU Ecampus to people I know who are interested in getting their degree but have families or job commitments, or for people who can't live near campus. I love the flexibility of my online courses, and feel that they are designed with the perfect amount of structure that keeps me focused and on task each week. Discussion boards are a fantastic way to learn from fellow classmates. I was generally a timid student in class, but online I felt I could talk/type freely and truly develop my own thoughts about the subject matter. I can't say enough great things about Ecampus.
Did you have an instructor or advisor who was influential in helping you succeed as a distance student?
Brandi Hall is an outstanding advisor. When I corresponded with Brandi, I felt as though I could explain all of my concerns and ask as many questions as I needed. She always responded promptly and provided me with exceptional feedback. I never felt I was wasting her time, and I was confident that Brandi would get back to me quickly and with accurate information. What I liked most about Brandi is her down-to-earth disposition; she gave me concise advice but managed to do so in a way that made her seem so real. THANK YOU, BRANDI HALL!!
What will your Ecampus degree allow you to do that you were unable to do before?
My life has been changed through my experience at OSU. First I was excited, then severely disappointed with myself, and I ended up in a place I never thought I would be – and couldn't be happier about the result. If someone asked me three years ago what I would be doing today, I would have told them I was going to be a dietician. Instead, I have an education in a field that I am most passionate about: families. I now have a family of my own (two boys, 7 months and 20 months) and I have decided I will commit my life to helping other families be successful and happy. While my degree will likely help me find a job, it is so much more than that.
The education I have received through OSU has influenced the way I view the world, communicate with others, and has inspired me to make a lasting difference in the lives of children and their parents. After graduation I plan to take required classes to prepare for the board exam to become a lactation consultant. I plan to work part time, volunteer, and spend time with my two little boys. I couldn't be more excited about my future.
Back to 2012 Ecampus graduate profiles.

Features and Navigation
Academic calendar
Currently it's fall term. See academic calendar for our quarter term schedule.

Winter term starts Jan. 8, 2024.
Spring term starts April 1, 2024.
Ranked top 10 in the nation
OSU Ecampus earned a top 10 ranking for the ninth year in a row on a list of America's best online bachelor's programs. Learn more »