Oregon State University Ecampus • Degrees Online
Ecampus fact
Built for online
Choose from nearly 2,000 courses — all of them intentionally designed for online delivery.
2012 OSU Ecampus graduates
Sheri Roberts – Half of a sister tandem that makes family history
B.S. in Agricultural Sciences
Norfolk, Va.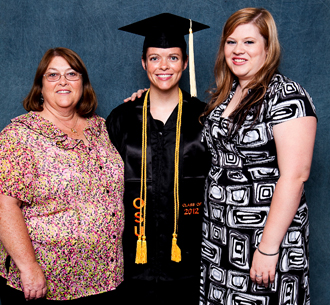 What does earning your OSU degree mean to you?
Earning a degree means many things. Not only was I able to explore a field that I feel passionate about, but it also is a stepping stone toward my educational goals. OSU is known for its excellent online degree program that is just as rigorous (if not more) than its on-campus classes. I feel proud of my accomplishments and feel like I can make a difference with the knowledge that I acquired here.
Why did you choose to complete your degree online through OSU Extended Campus? What did you like about this method of education?
I chose Ecampus because I was a military spouse. Every time I started school at a new location, we would move and I would have to start all over again. OSU offered a science-based program that I was very interested in. The quarter length and price all added to the convenience and accessibility of the classes.
Did you have an instructor or advisor who was influential in helping you succeed as a distance student?
Kimberly Japhet is an excellent instructor who is timely and thoughtful in her responses. She was always willing to take the time to explain concepts that I did not understand and work with me as a student during difficult moments.
What will your Ecampus degree allow you to do that you were unable to do before?
Graduating from OSU is a momentous occasion because I get to share this special moment with my sister, Kelly Johnson, who lives in South Dakota. We will be the first in our family to graduate from a four-year university, and we get to walk across the stage on the same day. We have laughed, groaned and studied into the early morning hours together through it all. This degree gives me a better sense of self. It gives me direction and opens doors into making a difference within my own community.
Back to 2012 Ecampus graduate profiles.

Features and Navigation
Academic calendar
Currently it's fall term. See academic calendar for our quarter term schedule.

Winter term starts Jan. 8, 2024.
Spring term starts April 1, 2024.
Ranked top 10 in the nation
OSU Ecampus earned a top 10 ranking for the ninth year in a row on a list of America's best online bachelor's programs. Learn more »