Oregon State University Ecampus • OSU Degrees Online
---
Ecampus fact
100+ subjects to study
Explore all of Oregon State's online course offerings.
Nondegree admissions
Earn college credit online without pursuing a degree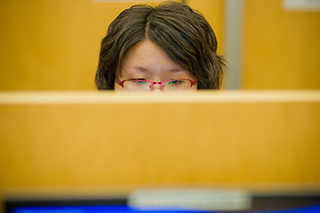 Admissions information
Nondegree enrollment status is designed for students who wish to take courses, but do not plan to pursue a degree or specific credential. Nondegree students do not qualify for financial aid. Nondegree students are part-time students and are expected to enroll in no more than 8 credits per term. If enrolling in more than 8 credits per term, a nondegree student will be charged tuition fees as fully admitted student.
Admissions requirements
Nondegree enrollment status does not require a formal admissions process or formal entrance requirements. There is a nonrefundable $30 application fee. Enrollment as a nondegree student does not guarantee regular admission to the university. Students wishing to apply for full admission should refer to the appropriate instructions for degree-seeking admissions.
Nondegree graduate status
If you have earned a baccalaureate degree and now wish to take courses without pursuing a degree or specific credential, you will be designated as a non-degree graduate student. If you decide to seek admission to a degree program, be aware that credit(s) taken under nondegree status may not apply toward that degree program or graduate certificate.
Any questions should be directed to the OSU Graduate School at 541-737-4881.
Summer term
Credit hours are not restricted for nondegree students during summer term. Summer term tuition for on-campus courses is assessed according to the tuition and fees information on the OSU Summer Session website.
Financial aid
Nondegree students are not eligible to receive financial aid.

Features and Navigation
Academic calendar
Currently it's spring term. See academic calendar for our quarter term schedule.

Summer term starts June 25.
Fall term starts Sept. 20.
OSU Ecampus earned a top 10 ranking for the fourth year in a row on a list of America's best online bachelor's programs. Learn more »