Oregon State University Ecampus • OSU Degrees Online
---
Credits required
45
Oregon State University is on a quarter-term system. There are four quarters each year and classes are 11 weeks long. This program's 45 quarter credits are equal to 30 semester credits.
Delivery
Online
You can complete all courses online. Some courses may require proctored exams in your local area.
Top-ranked university
Oregon State is America's natural resources university. OSU's world-class faculty in natural resources – including fisheries, wildlife, forestry, rangeland and water – are renowned for their research and innovation. Oregon State is an internationally renowned public research university and is one of only two land, sea, space and sun grant universities in the nation, so you know your diploma comes with a strong reputation attached.
Oregon State Ecampus is consistently recognized as a top-ranked provider of online education. Our national prestige is based on academic quality, faculty credentials and training, student engagement, student services and technology, and student retention.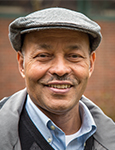 Meet the program director
Oregon State's Master of Natural Resources program director is Dr. Badege Bishaw, who specializes in a agroforestry, social forestry, silviculture and international forestry. Dr. Bishaw is also the director of the forests and climate change and sustainable natural resources graduate certificate programs.
Natural Resources Distance Learning Consortium
Oregon State is a member of the Natural Resources Distance Learning Consortium (NRDLC) that partners with the U.S. Forest Service and Bureau of Land Management along with 10 universities. NRDLC provides over 300 online classes and degrees covering a variety of natural resource management disciplines aimed at agency professionals.

Important dates
Winter term starts
Jan. 8, 2018
Spring term starts
April 2, 2018
See our academic calendar for our full quarter term schedule.
Degree details
* cost per credit and total cost are calculated using tuition per credit for the current academic year. It does not include associated fees, course materials, textbook expenses, and other expenses related to courses.
† You can complete all courses online. Some courses may require proctored exams in your local area.
Find application deadline
Ready to apply?
Once you've gathered the information you need to know before you apply to Oregon State University, take the next steps.