Oregon State University Ecampus • OSU Degrees Online
---
Major Courses: B.A./B.S. Political Science – Online
Featured course: Politics and the Media (PS 415)
Examine the methods of operation, content and effects of the media in relation to politics and government. Course work includes analysis of newspaper, radio and television, political advertising and other forms of political communication. (Offered summer term. Four-credit course)
Faculty: Philipp Kneis, Ph.D.
Download the course syllabus
Political science students complete 52 credits of major course work
Political science course work within the degree program offered online through Oregon State Ecampus is diverse and covers major topics not just in U.S. politics but in environmental politics and international relations and policy as well. Courses continue to be added as the field of political science changes. This is a sample of the current major courses available online within political science. Please note: Not all of these courses are offered each term.
Three-to-four credit courses in political science
PS 201 - Intro to U.S. Government*
PS 204 - Intro to Comparative Politics*
PS 205 - Intro to International Relations*
PS 206 - Intro to Political Thought*
PS 300 - Policy Analysis
PS 312 - Presidential Politics
PS 314 - Interest Groups
PS 315 - Politics and the Media
PS 321 - American Constitutional Law (1789-1876)
PS 322 - American Constitutional Law (1876-1948)
PS 331 - State and Local Government
PS 341 - Politics of Western Europe
PS 342 - Middle East Politics
PS 345 - The Politics of Developing Nations*
PS 351 - U.S. Foreign Policy
PS 361 - Classical Political Thought*
PS 362 - Modern Political Thought*
PS 363 - Gender and Race in American Political Thought*
PS 374 - Sustainable Living and Policies
PS 406/410 - Projects/Internship
PS 449 - Topics in Comparative Politics
PS 454 - International Organization and Law
PS 455 - Politics of Climate Change
PS 470/570 - Global Food Politics and Policy
PS 475 - Environmental Politics & Policy
PS 476 - Science and Policy
PS 477 - International Environmental Policy

Graduate Classes
PS 555 - Politics of Climate Change
PS 575 - Environmental Politics & Policy
PS 576 - Science & Politics
PS 577 - International Environmental Politics & Policy

* Denotes Bacc Core course
Other requirements for the degree
In addition to the above courses, undergraduate majors (those pursuing a bachelor's degree from Oregon State) also complete the baccalaureate core, the College of Liberal Arts core as well as B.A. or B.S. requirements - meaning taking foreign language for a B.A. or science courses for the B.S. Students must complete 180-quarter-term credits of course work in order to earn an Oregon State diploma. Visit the curriculum overview to view the degree requirements for this program.
Oregon State is on a quarter term system
Our courses are held fall, winter, spring and summer and run for 11 weeks each term with finals occurring during the last week. If you have earned credits at an institution that is on semesters, this will impact how your credits may transfer into Oregon State. Visit "Ask Ecampus" for a quick explanation of how a quarter term compares to a semester term.

Features and Navigation
Academic calendar
Currently it's fall term. See academic calendar for our quarter term schedule.

Winter term starts Jan. 8, 2018.
Spring term starts April 2, 2018.
Degree details
| | |
| --- | --- |
| Program | Political science |
| Degree type | B.A. or B.S. |
| Credits needed to graduate | 180 |
| Cost per credit* | $288 |
* cost per credit and total cost are calculated using tuition per credit for the current academic year. It does not include associated fees, course materials, textbook expenses, and other expenses related to courses.
Ranked top 10 in the nation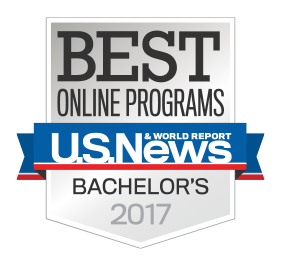 OSU Ecampus earned a top 10 ranking for the third year in a row on a list of America's best online bachelor's programs. Learn more »