Oregon State University Ecampus • Degrees Online
Ecampus fact
100+ degree programs
Explore all of Oregon State's high-quality online degrees, programs and microcredentials.
A well-deserved honor
21 Ecampus students inducted into national honor society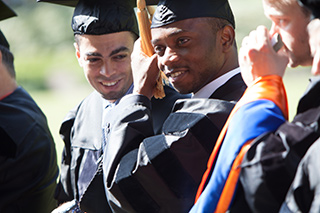 Oregon State Ecampus is always looking to expand opportunities for our distance students to become more involved in the OSU community wherever they live, and we recently helped to create another.
In an effort spearheaded by Ecampus student success counselor Amy Riley, OSU started its own chapter of the Alpha Sigma Lambda Honor Society, a national outfit that recognizes adult learners "who accomplish academic excellence while facing competing interests of home and work."
The OSU chapter invited 114 students for membership, and 49 were inducted – 21 Ecampus students, 22 from OSU's main campus in Corvallis and six from OSU-Cascades.
"I'm actually really excited to see how this membership will connect me to other students. Just belonging to a university organization as an Ecampus student helps me feel more connected," said Stacey Helm, 42, a mother of three and liberal studies major from Hubbard, Ore.
"It was a real boost to my confidence to be invited to join."
OSU's Alpha Sigma Lambda chapter provides members with some well-deserved recognition for their devotion to academic success. Amid the countless hours of working, raising a family or volunteering in the community, there is rarely time for Ecampus students to stop and appreciate the educational journey.
"Being recognized keeps me inspired. It makes me want to do more and set goals to reach every dream in my life," said Catherine Hall, a human development and family sciences student and a kindergarten educational assistant in southern Oregon. "On the tough days, I'll be reminded that I am one of only 50 in this group."
With some of the new ASL members entering the homestretch of their degree program, the honor society induction helps put an even bigger bow on their highly successful tenure at Oregon State.
And in all likelihood, they're just beginning to scratch the surface.
"This membership will allow me to tangibly show future employers and members of my community that I am committed to a higher standard in all aspects of my life," said Randi Mueck, a Myrtle Creek, Ore., resident who will receive her bachelor's degree in liberal studies this June.
"With this sense of pride and accomplishment I can have the confidence to succeed."

Features and Navigation
Academic calendar
Currently it's fall intersession. See academic calendar for our quarter term schedule.

Fall term starts Sept. 27.
Winter term starts Jan. 8, 2024.
OSU Ecampus earned a top 10 ranking for the ninth year in a row on a list of America's best online bachelor's programs. Learn more »