Mission to expand online ed opportunities puts Edge in limelight
Oregon State University is a nationally recognized leader in the field of fisheries and wildlife, a reputation that was bolstered in 2009 when it became the country's first university to offer an online bachelor's degree in fisheries and wildlife through OSU Ecampus.
It didn't take long for skeptics to come out of the woodwork and denounce the idea, saying it was impossible to replicate the same learning outcomes of a site-based fisheries and wildlife program in an online setting. But the naysayers didn't discourage Dan Edge from moving forward with the plan – and proving the doubters wrong.
It was one in a long line of victories for Edge, the head of OSU's Department of Fisheries and Wildlife Science. The most recent came earlier this year when he won the 2012 Excellence in Teaching Award from the University Professional & Continuing Education Association (UPCEA).
"I'm just delighted to receive UPCEA's highest national honor in teaching, primarily because this is an association which focuses on education," Edge said. "I have been in both distance education and formal education for years, and this award recognizes the hybrid between those two, so it's a real honor."
The award can also be seen as somewhat of a "lifetime achievement award" for Edge. He was among the first OSU faculty members to support online learning as a way to reach students and deliver high-quality education. More than 15 years later, he remains one of the university's staunchest supporters of distance ed.
The online fisheries and wildlife degree program has grown exponentially in the past few years, creating a wealth of invaluable, experiential learning opportunities for students, many of whom Edge teaches, advises and works with even after they've graduated.
The trailblazing efforts of Edge and his department expand seemingly by the day. This spring, Ecampus will unveil an online Professional Science Master's in Fisheries and Wildlife Administration, the only program of its kind in the United States. This is not growth for growth's sake or revenue generation; rather, it is a passionate commitment – led by Edge – to bring OSU's expertise to distance students worldwide.
His devotion to distance education goes beyond fisheries and wildlife. He has been an active and integral participant in the development of other OSU distance programs. With Edge's assistance, OSU's natural resources online degree program won national awards for excellence from the American Distance Education Consortium (ADEC) in 2002 and 2003. Additionally, Edge has won teaching excellence awards from the USDA twice, as well as three other national awards for distance-education courses.
In addition to considering the needs of students during the design of educational programs, Edge constantly takes into consideration the needs of the region, state and profession, particularly the future employers of OSU students.
And it's in working with students where Edge generates his most lasting impact. Despite his department's enormous growth in recent years, he maintains an environment tailored to the individual. He has 45 students assigned to him for advising, and he meets with each one each term prior to their registration. Edge is the one responsible for conducting exit interviews with all graduating distance students in order to obtain feedback on everything related to their experience as a student in his department.
From a teaching perspective, here's a short list of all the places Edge currently hangs his hat:
A junior-level course in which students are asked to pick a career path and specialized area of study. Edge works closely with the students to help them make these important decisions.
A senior capstone course in which students explore real-world case studies and develop presentations and products for public viewing.
A lower-division fisheries and wildlife course in Chile as part of a study abroad program for sophomores. Edge has been instrumental in making international learning opportunities a central piece of his students' experience at OSU.
A graduate orientation course each fall for all incoming graduate students, which he does in addition to offering a teaching practicum fall and spring terms for graduate teaching assistants.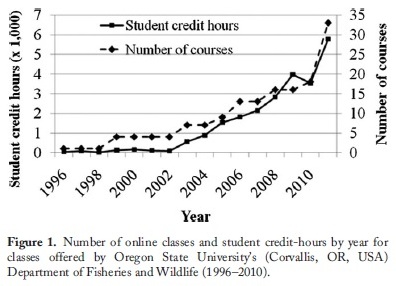 The result of Edge's excellence as a teacher, advisor and department head is a rapidly growing number of distance students who leave OSU well-equipped to perform the professional duties related to their field. According to Edge in a study he and OSU colleague Dana Sanchez released earlier this year, the two internships required in the undergraduate fisheries and wildlife program "undoubtedly offer better opportunities for developing field- or laboratory-related skills" than the lesser opportunities available to on-campus students.
He also contends that distance-ed majors in his program "are engaged in discussions more frequently than our face-to-face learners and, therefore are more regularly engaged in synthesis and critical thinking activities."
That he is able to accomplish all of this as an educator while also serving in a number of external leadership roles is even more impressive. In his "spare time," Edge serves as the chairman and commissioner of the Oregon Fish and Wildlife Commission; the president of the National Association of University Fish and Wildlife Programs; the president of the Association of Public and Land-Grant Universities, Fish and Wildlife Section; and this year he was elected as a fellow of The Wildlife Society.