The audio feed on Dirk Gard's laptop went haywire late last month in a hotel room somewhere in Indianapolis. On a night he was hoping to hear some once-in-a-lifetime good news, he could have taken it as a bad omen.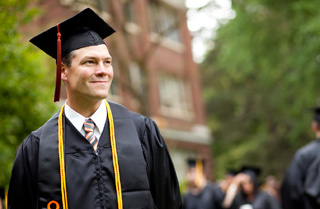 Gard, an Oregon State Ecampus graduate from Casper, Wyoming, was a finalist for the university's prestigious Waldo-Cummings Award, given annually to 10 university seniors in recognition of academic excellence.
It was a long shot, he figured, but his wife, Becky, sent him constant updates via text message while she watched and listened from Wyoming. The assembly line of information was a testament to how small the world is in the digital age: News traveled from the awards ceremony in Corvallis, to Becky in Casper to Gard in Indianapolis in a matter of seconds. It still felt like an eternity.
Cooped up in his hotel room and waiting in a deafening silence for his phone to buzz, the message finally came:
"YOU WON!!"
The ensuing memories are hazy because emotions overcame Dirk and Becky, who celebrated wildly and in unison, albeit 1,200 miles apart.
"She was pretty shook up about it," Gard said. "I asked her, 'What else did they say after they announced the award?' And she said, 'I don't know. After they called your name, I just started crying.' "
Gard, 47, earned a B.S. in Natural Resources from Oregon State after completing his coursework online via Ecampus. For three years he lived a double life as an online student and the manager of a Wyoming wind farm.
It was a difficult balancing act that he said wouldn't have been possible without the personal touch of his Ecampus professors and advisors.
"When you're doing this Ecampus school work in addition to your day job, you sometimes wonder if it's all going to be worth it," he said. "It's been extremely flattering for me and my wife during the awards process, and it's really overwhelming – in a good way. This is a really big payoff."
This new reality, the one with awards and mountains of praise, is far different than anything Gard envisioned for himself. Half a lifetime ago, he worked in the boiler room of a coal power plant, the lowest man on the totem pole at Duke Energy in Indiana. His job involved all the grimy, sweaty work befitting a newcomer whose résumé boasted only a community college associate degree.
It didn't take Gard long to set himself apart, though. He rose through the ranks at Duke Energy and received a number of promotions, the most recent of which made him the operations manager at the Campbell Hill Wind Farm in Casper.
Despite his secure position within one of the largest power companies in the United States, he still felt unfulfilled. He enrolled in online classes at a separate institution in 2004, but it didn't stick.
"I got about 30 credits and then stopped," Gard said. "They only offered business classes, and I really didn't like the format. I started looking around for some natural resources courses, and OSU Ecampus kept popping up on the Internet.
"When I first saw the curriculum and it said 180 credit hours I was pretty intimidated, but the diversity of the classes and all the help from my professors made it more of a good experience than a daunting one."
Gard's positive, hard-working demeanor sustained him through his Ecampus courses, and it didn't go unnoticed by his professors – even the ones who didn't give him the highest marks.
"Dirk really exemplifies the best of the distance students," said professor Bob Ehrhart, who started OSU's natural resources online degree program in the late 1990s and teaches Ecampus courses from his home in New Mexico. "I'm kind of surprised he mentioned me because I didn't give him top grades all the time.
"He got good grades, don't get me wrong. But, to me, that reflects the maturity of someone who is interested in learning what we're teaching. He's a nontraditional student who was very motivated."
Gard praised Ehrhart and his other Ecampus professors because they "really gave you a sense that they cared. They pushed you. You could tell they were really motivated and dedicated to their students."
All the recent fuss made over Gard's academic honors is nice but somewhat fleeting, he says. The two words in his wife's celebratory text message mean less than the two words he is now able to add to his résumé: college graduate.
"I've already applied for a federal position at the Tongass National Forest in Alaska," he said. "That's a job in the past I wouldn't even have tried to get. Why bother, you know? I didn't have the credentials.
"Now my wife just says, 'If it looks good and you get it, let's go.' It's a pretty amazing feeling."