CORVALLIS, Ore. – Oregon State University has launched what it believes is the nation's first online bachelor's degree in German, and it's designed to give distance students an interactive experience superior to the one on-campus students receive.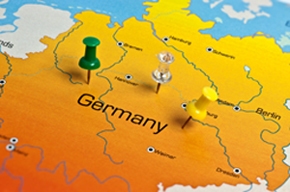 Using an array of Internet technologies, the German program – delivered online by OSU Ecampus – will significantly increase the amount of time students spend communicating with and learning from their instructors. Each course taught in German will feature a weekly one-on-one video chat with instructors that lasts 20 to 30 minutes.
Program coordinator and OSU German professor Sebastian Heiduschke says students in campus-based courses rarely receive that much individual face time, and he believes it will give the online students a better grasp of the German culture and language.
"Students need to practice speaking and hearing a new language in order to learn it, and that can only be done with a partner. This program provides that," said Heiduschke, who grew up in Bamberg, Germany. "We interact easily with Skype, Google Hangouts and other online programs. It's all very effective.
"I was shocked to hear there was no full degree German program offered online in the U.S., and now we've developed one that gives students valuable learning opportunities."
OSU Ecampus will launch the program this fall, and students may apply and find more information online.
The German language plays a powerful role in the world, with more than 200 million speakers, and it is one of the leading languages of science, philosophy, history and the arts. Other than English, it is used more widely than any language on the Internet.
Germany also boasts the world's fourth-largest economy, and Heiduschke says earning a B.A. in German from OSU online would give students a leg up in the international job market.
"This is great opportunity for students who have a degree in engineering, for example, but can't find a job, to go to Germany where there is a shortage of engineers," he said. "I've had German companies contact me and tell me, 'If the language proficiency is right and they have the knowledge in their field, we will hire them.' It's pretty much a guarantee."
The Ecampus program exposes students to more than just the language, though. German majors will also take courses that focus on the country's literature, culture and cinema, as well as the culture, history and literature of Austria and Switzerland to achieve a broad coverage of German-speaking countries.
"We have developed a curriculum that gives students a solid foundation in a variety of areas, and they can build their own major and tailor it exactly to what they need and want to learn," Heiduschke said. "There is definitely a demand for programs like this one, and we're excited to give the students what they want."
-30-
About Oregon State University Ecampus: Through our comprehensive online degree programs, Oregon State Ecampus provides learners with access to a high-quality education no matter where they live. We offer 30 undergraduate and graduate degree programs online, and we are consistently ranked among the nation's 25 best providers of online education. Learn more about OSU degrees online by visiting ecampus.oregonstate.edu.