Ray: Off-campus master's program a key to state's academic success
CORVALLIS, Ore. – Oregon State University is addressing the state's need for additional K-12 counselors by launching an off-campus master's program in school counseling, one whose statewide outreach should yield increased student success, according to OSU President Ed Ray.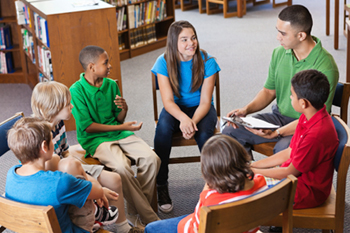 The university's new M.S. in Counseling program – offered by OSU's College of Education and delivered in a flexible online and face-to-face format by Oregon State Ecampus – aims to bring comprehensive counseling services to all students and increase college-going 
rates among underrepresented populations.
Oregon's K-12 school system posted a student-to-counselor ratio of 553 to 1 during the 2010-11 school year, according to the U.S. Department of Education. That's the eighth worst ratio in the nation and more than double what is recommended by the American School Counselor Association.
"As the state's land-grant university, Oregon State is charged with providing educational opportunities to citizens throughout the state with partners throughout the education continuum, and this counseling program reflects our mission," President Ray said. "We produce high-achieving graduates who contribute to a healthy economy, and skilled school counselors are critical partners in efforts to provide enriching services to all Oregon students."
Gene Eakin is the director of the new counseling program, and he says its coursework will directly impact the outcome of the state's 40-40-20 education initiative. That goal states that, by 2025, 40 percent of adult Oregonians will hold a bachelor's or advanced degree, 40 percent will have an associate's degree or a postsecondary certificate, and 20 percent will hold at least a high school diploma or equivalent.
Eakin, who spent 28 years as a K-12 counselor, believes school counselors play a critical role in achieving college and career readiness for all students, particularly those in Oregon's rural counties, where less than 20 percent of people have a bachelor's degree or higher.
"We want to help people make the connection between school counseling and 40-40-20. If you want to achieve that goal, you have to significantly increase the number of school counselors in the state," Eakin said. "Because of our statewide recruitment area, we feel this program has an opportunity to impact the college matriculation out of rural areas."
To provide schedule flexibility for students, 50 percent of the instruction will be delivered online and 50 percent will be conducted in face-to-face classroom meetings, held on weekends twice a term at Chemeketa Community College in Salem.
Eakin envisions a program that focuses exclusively on pre-professional preparation of school counselors and promotes social justice and cultural competency. In addition, it will help encourage STEM (science, technology, engineering and mathematics) career awareness while sharing strategies to reduce students' STEM anxiety.
"Math is the gatekeeper for students meeting college entrance requirements," said Eakin, "and if we don't address the STEM anxiety issues, where will our scientists, mathematicians and engineers come from if we don't have as many students entering and graduating from college?"
The program, which is now accepting students for its 2013 cohort, is accredited by the Council for Accreditation of Counseling and Related Educational Programs (CACREP), the National Council for Accreditation of Teacher Education (NCATE), as well as Oregon's Teacher Standards and Practices Commission (TSPC).