Computer science program helps students quickly find 'true calling'
By Rachel Robertson
Oregon State University's online postbaccalaureate program in computer science will allow the university to double the number of computer science graduates with a bachelor's degree by this June.
Launched in June 2012 by the School of Electrical Engineering and Computer Science (EECS) – in collaboration with Oregon State Ecampus – it is the only online degree program in the nation for post-baccalaureate students.
Students who already have a bachelor's degree in another field can apply to the program and complete it in as little as 12 months because no general education courses are required. The courses are geared to people with no computer science experience.
"As tech companies were struggling to find trained professionals, I saw we had an opportunity to quickly realign college graduates who are unemployed or underemployed to highly-paid computing jobs," said Terri Fiez, head of the School of EECS, who spearheaded the program alongside Ecampus.
The program has attracted students with a broad range of previous degrees including accounting, chemistry, engineering, history, journalism, law, psychology, and political science. Thirty-nine percent of the students come with backgrounds in humanities and social sciences. The online format allows individuals juggling work and family an easier way to go back to school.
The first graduates finished in June 2013 and found a hot job market for their new skills. According to a recent survey by the Technology Councils of North America, the entire nation is experiencing a shortage of people trained in computer science. Two-thirds of technology company executives in North America agreed there is a talent shortage. The crisis is particularly acute in Oregon where 86 percent of executives reported there is a shortage of talent in a survey conducted by the Technology Association of Oregon (TAO).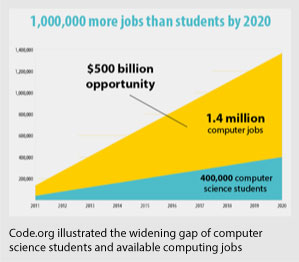 A local supply of technical talent is essential to the growth of Oregon's high-tech industries, according to Skip Newberry, TAO president. Indeed, one of the key strategies in the 2014 Oregon Business Plan is to better connect education with high-paying jobs in STEM fields including computer science.
Although the 755 students admitted to the online program are from all over the world over half of them are from Oregon, Washington and California (23 percent currently live in Oregon).
"OSU's one-year online degree program in computer science is working to help fill some of the gaps by offering students and professionals a flexible way to obtain valuable skills and increase their marketability within the local tech industry," Newberry said.
The program is also having personal impact, allowing students such as Nicklas Knudson to reinvent their lives. Knudson intended to go to medical school when he started on his biology degree but changed his mind along the way. After working for two years as a biologist he decided to return to his early interest in computer science.
"I thought about getting a master's degree in computer science but I couldn't find any program that would accept my biology degree," he said. "The alternative was to go back for another four years to get a second bachelor's. This program was a godsend for me because it allowed me to take what I already knew and bridge it to something that I was really passionate about."
Knudson had several job offers upon graduation and chose the one he was most excited about – working with the Army Corps of Engineers on control systems for hydroelectric power plants along the Columbia River.
Elsewhere, Bental Wong – with an established career in business and two small children – said he would not have been able to carry out his dream of becoming a software engineer without the flexibility of OSU's online program. Wong had three job offers immediately after graduating and is now part of a small team at Hewlett Packard in Vancouver, Wash., creating innovative software for HP printers.
"I found my true calling," he said.
Added Fiez: "It's so rewarding to hear about the successes of our students. We are proud of the impact this program is having on the lives of our students and the tech industry."
---
Learn more about Oregon State's online program in computer science on the EECS website.