Health physics grad turns her engaging education into career success
By Casey Mills
Oregon State University

Morgan Whisinnand knew her ultimate goal was within reach when she discovered the Oregon State Ecampus program in radiation health physics.
Her career began with an associate's degree in nuclear medicine technology from Southeast Technical Institute in Sioux Falls, S.D. After spending some time in the field realized she wanted to be a health physicist, so she moved back to her home state of Nebraska to finish a Bachelor of Science in Allied Health at Doane College.
"After completing my bachelor's degree, I joined the Radiation Safety Office at the University of Nebraska-Lincoln where I'm currently a radiation safety specialist," Whisinnand said. "I spent a lot of time researching the Ecampus program at Oregon State. I did look at other schools that offered similar distance programs, but Oregon State just stood out.
"I knew it was the right decision, and moving somewhere that offered an on-campus program was not an option. I enjoyed the flexibility, and the fact that I wouldn't have to put my career on hold while getting a degree. I was actually promoted while I was in school, so I know I made the right choice."
Oregon State's distance education has roots dating back to the 1880s. Ecampus as it exists today began delivering courses and degree programs online in 2002.
This type of education has long been an interest of OSU's Nuclear Engineering & Radiation Health Physics (NERHP) department as well, which began its distance education by offering a correspondence course for Pacific Gas and Electric employees.
"In the early 2000s, Professor Emeritus Steve Binney received a large Department of Energy grant to create the Western Nuclear Science Alliance. One aspect of the grant was to develop distance education," said Oregon State's NERHP department head, Kathryn Higley. "We started with both NE and RHP, and later focused solely on RHP. Our first offerings via distance were in 2004. We saw a very positive response."
Those efforts grew into what is now the online health physics program delivered by Oregon State Ecampus. Whisinnand is an alumna of that program, which offers both a master of science and a master of health physics degree track. She was one of nine students to graduate last spring from the program that is a rapidly growing part of NERHP enrollment.
Although Whisinnand had taken other online classes before, she found the Oregon State experience to be quite different.
"I had taken two online classes during my undergraduate coursework," she said. "My experience with online classes prior to OSU was not great. I received good grades in both of the online classes, but I really felt alone while taking them, since they were completely independent study. During the classes, I had little to no interaction with the professor or other students.
"The online classes at Oregon State were so different. I felt completely engaged in the courses through the discussion boards, constant interaction with other students, and feedback from the professors. The recorded lectures allowed me to feel like I was in class alongside my classmates. I was really able to get to know my professors and felt very connected to the material."
While most of the program is done online, the plan of study requires each student to attend two weeklong lab courses on campus during the summer. It offers students an opportunity to have a condensed campus experience and finally meet faculty and classmates in person.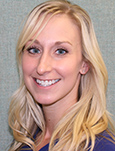 "I have to admit, when I came to OSU the first time for the summer labs, I saw several of my professors in the halls of the Radiation Center and I smiled and said hi, not remembering they hadn't met me face-to-face yet," Whisinnand said. "I really felt like I knew many of them very well before I met them in person for the first time."
Not only did she discover an inspiring educational format, but she was able to seamlessly blend her coursework with her everyday work in the field.
"I have learned so much through the OSU program that I have been able to directly apply to my current position. The program strengthened my knowledge and understanding of so many things. I use this advanced knowledge every day."
Whisinnand recently took part one of the certified health physicist exam, a step toward a major credential in the field.
"My goal is to become a certified health physicist and to continue to learn and grow within my field. I am not sure if another degree is in my future, but I know that I will always continue to learn," she said.
Continuing to look to the future, professor David Hamby, director of the health physics program, has taken an active role in the further development of online programming at NERHP.
"Of our Ecampus program, we've always wanted to deliver the same quality courses that we offer to our on-campus students," Hamby said. "Our student evaluations indicate that we're doing a good job in that regard.
"Into the future, we see the Ecampus program continuing to build momentum as we strive to deliver a quality education to those who are unable to take part in the traditional graduate experience."
Oregon State Ecampus is consistently ranked among the top online universities in the nation. In addition to these overall rankings, the OSU health physics online master's program was named a Best Buy in Online Engineering Master's Degrees by GetEducated.com.
[Source: Ecampus education: Nuclear Engineering & Radiation Health Physics]