Oregon State University Ecampus • OSU Degrees Online
---
Update: On-campus proctoring in Milne will be closed through the end of summer term along with many other approved proctors around the world. If you are in an area impacted by closures we encourage using ProctorU. Consult your course syllabus if needed to determine your proctoring options. More COVID-19 resources »
Exam Proctoring: How-to FAQs
"How do I take an exam in an online class?"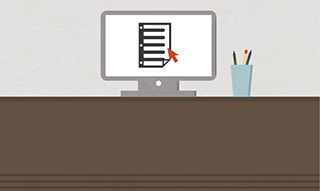 It's a fundamental question that students ask us all the time. There are a variety of options, and one that Oregon State Ecampus instructors use frequently is called proctoring. A proctor is someone who supervises a student during an exam to ensure academic integrity.
That sounds simple enough, but how do you find a proctor in your area? What's the process of scheduling a proctoring appointment? This quick tutorial will answer those questions and more about proctored exams with OSU Ecampus.
Exam proctoring FAQ
1. So how does it work?
Your Ecampus instructor will inform you when a test requires a proctor. Please note that it is the student's responsibility to schedule an appointment with a proctor.
During the exam, the proctor will go over the exam instructions (as noted by your instructor) and act as a supervisor until you complete the test. You will then submit the exam to your instructor for grading. If the instructor assigns a paper exam, check with your proctor for their policy on paper exams.
Additionally, ProctorU is a well-respected online service that has its own procedures to ensure academic integrity.
2. Where can I find a proctor?
You have plenty of options when it comes to finding an acceptable proctor for your exams. Here are some notable possibilities:
3. Where do I go to submit a proctor for approval?
Once you have an OSU Network ID (ONID) account, use it to log in to the exams and proctoring form and enter the courses for which you need to arrange proctoring. Then you can select the type of proctor you want (off-campus or on-campus) and choose a time and date that works best for you.
4. How far in advance should I make a proctoring appointment?
Students should submit their proctor information at least two weeks in advance (preferably more). It will then take Ecampus a few days to process the request.
5. What is Ecampus' role in all of this?
Ecampus staff members need to know which proctor you plan to use so we can approve the proctor and send them the exam information. Ecampus serves as the liaison between your instructor and the proctor.
6. Can someone at Ecampus help me if I have questions?
Getting started FAQ
1. I am a new student at Oregon State and this is my first online class. Where do I go to register for proctoring?
For new students who have never accessed the proctoring database:
Start by visiting this link online. This will take you to the main proctoring page that provides information on how to find a proctor, how to schedule a proctor and other information pertaining to proctoring.
When you are ready to submit your proctor, click on 'Exams and Proctoring Form' highlighted in orange.
Click on 'ONID Login' and enter your ONID username and password to access the database.
2. I have logged onto the database to submit my proctor, but my course isn't there. How can I add my courses to my student profile?
If your course(s) are not displaying on your student profile, clicking on 'View Course' will take you to the Course Information page. There, you can add your courses by selecting the subject, course and section, which will populate the title and instructor fields. Confirm the course information is correct and select 'Add Course' to add that course to your student profile.
3. I have added my courses but I can't seem to find a proctor. How do I find and arrange a proctor?
There are many ways to find a proctor for the term. The first step is determining whether you are looking for a proctor on campus or off campus.
ON CAMPUS:
If you are an on-campus student, proctoring is offered periodically throughout the term at the Milne Computer Center, and for registered DAS students at DAS Testing Center located in Heckart Lodge (please note: DAS is located under 'Schedule Off-Campus Proctors' on the Exams and Proctoring Form).
Only students registered with DAS at Oregon State can use the DAS Testing Center at Heckart Lodge as a proctor. Please review the DAS Student Handbook for more information regarding DAS alternative testing.
OFF CAMPUS:
Additional proctoring options near the Corvallis area include the Benton Center in Corvallis and various Linn-Benton Community College locations in Albany, Lebanon and Sweet Home.
If you reside in the state of Oregon but not in Corvallis, you can check out the 'Oregon Testing Center' tab on the left hand column. There, you can find proctors throughout the state of Oregon, including Central Oregon Community College in Bend, Chemeketa Community College in Salem and Portland State University in Portland.
For out-of-state students, checking out local libraries, community colleges or university testing centers are good places to look, as most offer proctoring services of some kind. The National College Testing Association (NCTA) can provide additional options for approved proctors throughout the United States. You can also contact Ecampus Testing at 541-737-9281 for questions regarding proctoring in your area.
ProctorU is an online proctoring service you can use anywhere as long as there is reliable internet and the computer contains a webcam (built in or attachable). This is a perfect option for students who can't find an in-person proctor in their area or are out of the country (Please note: ProctorU may not be available for every course).
When selecting a proctor, it is important to contact them beforehand to ensure they can meet your testing accommodations.
4. How far in advance of my exam should I submit my proctor(s) for the term?
Students should submit their selected proctor at least two weeks prior to their scheduled exam. Leaving two weeks of space between proctor submission and exam time will allow Ecampus Testing adequate time to review the proctor and determine if they are an acceptable proctor.
5. I submitted my proctor but have not received a confirmation email from Ecampus. What should I do?
If Ecampus Testing has not worked with a proctor before, the proctor will have received verification questions via email to see if they meet the qualifications to be an acceptable proctor. Contact your proctor to see if they received those questions (Ecampus Testing can always resend the questions if need be). Once the response from the proctor has been received, Ecampus Testing can review the answers and determine if they are an acceptable proctor. If they are deemed acceptable, the student will receive a confirmation email and the proctor will receive the student's exam information.
Disability Access Services (DAS) FAQ
1. I have a proctor in mind that I would like to use, but I am unsure if they can meet my testing accommodations. Who should I contact?
If you are unsure that your selected proctor can meet all of your specific accommodations, contact your intended proctor prior to submitting them in the proctoring database.
2. How far in advance should I confirm that my testing accommodations have been received by my proctor?
Students not using DAS as their Ecampus proctor should confirm their accommodations with their chosen proctor 2-4 days before the scheduled exam time. If your proctor has not received your testing accommodations, contact Ecampus Testing as soon as possible so they can make any necessary adjustments and get that information to the proctor.
If you have selected DAS as your proctor and have questions about your alternative testing accommodations, please contact your DAS advisor.
3. I have selected DAS as my proctor. How do I schedule my exams?
If you have designated DAS as your on-campus proctor, DAS will complete a testing agreement for the course once they receive the proctoring information from Ecampus. Once DAS completes the testing agreement, you will be able to schedule your exams with DAS through your DAS Online Services.
Please note that it can take up to 48 hours from registering DAS as your Ecampus proctor to being able to schedule your exams. Contact the DAS Testing Center if the course still isn't available after 48 hours under "Alternative Testing" in your DAS Online Services.
4. I am a DAS student and I want to use ProctorU. How can I ensure ProctorU is aware of my accommodations?
If you have testing accommodations through DAS and plan to use ProctorU for your proctored exams, it is important to check that ProctorU has your testing accommodations. You can do this by sending ProctorU an email or using their website's live chat feature to check that your accommodations are set for your exam time. If ProctorU does not have record of your accommodations, notify Ecampus Testing as soon as possible so they can send ProctorU the necessary information (please note: ProctorU may not be available for every course).
5. Will the Milne Computer Center be able to accommodate all of my testing accommodations?
The Milne Computer Center is the main location for on-campus proctoring for Ecampus students, but it is not equipped to handle all types of accommodations. Milne can accommodate extra time, but for any additional accommodations, we recommend that students utilize the DAS Testing Center in Heckart Lodge, since they are equipped to handle a greater variety of student testing accommodations.
If you would like to use your extra time accommodations at Milne please select sessions early enough for your exams to be completed before the last session of the day ends. Exams must be completed within our operating hours. Exam check-in begins 30 minutes prior to each sessions start time. Please contact us at 541-737-9281 or ecampustesting@oregonstate.edu if you will need to check in more than 30 minutes before a session begins to receive your full exam time.
6. Is there a way I can check that my extra time accommodations have been added in Canvas?
Instructors are responsible for inputting extra time accommodations into Canvas. If you would like to check to make sure it has been added, check the time limit for the exam on Canvas or reach out to your instructor to confirm that extra time has been added to the exam. If your additional time has not been added for your exam, contact your instructor first. If you are not able to get ahold of the instructor, contact Ecampus Testing as soon as possible before starting the exam.

Features and Navigation
Academic calendar
Currently it's summer term. See academic calendar for our quarter term schedule.

Fall term starts Sept. 23.
Winter term starts Jan. 4, 2021.
OSU Ecampus earned a top 10 ranking for the sixth year in a row on a list of America's best online bachelor's programs. Learn more »