Oregon State University Ecampus • Degrees Online
Ecampus fact
110+ subjects to study
Explore all of Oregon State's online course offerings.
Disability Access for Online Students
Discover the many resources available as you work toward an accredited online degree
Are you looking for a degree program that provides ultimate accessibility combined with academic excellence? Do your educational needs require alternative learning and testing options?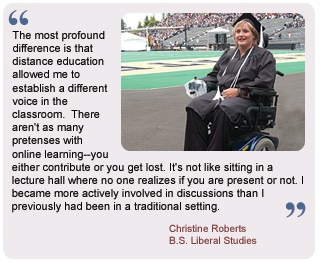 Oregon State University Extended Campus can not only provide an education that is within reach, but understands the kind of degree program that best fits your lifestyle, educational needs and goals for the future.
OSU is a nationally-recognized premier teaching, research and service outreach institution located in Corvallis, Oregon. Through Ecampus, OSU brings quality contemporary education to you no matter where you live and online courses that offer services designed to provide access and promote student achievement.
Throughout the year, we offer more than 1,500 online courses in more than 110 subjects which are accredited and taught by OSU's distinguished faculty. Our award-winning programs are nationally acclaimed, serving students in all 50 states and around the world.
OSU Ecampus online courses and degree programs provide absolute convenience and flexibility—students access courses online on their own time from any location and enter a vibrant learning environment supplemented by videos, streaming media, podcasts and interaction with others in online discussion. OSU Ecampus courses are also supported by OSU Disability Access Services, which can accommodate students with documented disabilities. Disability Access Services has an Ecampus student page specifically for online students to help students coordinate testing, alternative learning formats and other services.
Please explore the online and distance degrees and contact our Student Services Center to discuss your personal educational needs.
Student Profiles
Want to learn more about Ecampus graduates who utilized Disability Access Services? Click on the names below to read their stories.
Christine Roberts - B.S. in Liberal Studies
Delia Costley Jones - B.S. in Liberal Studies
Are you an Ecampus student using Disability Access Services? Tell us your story.
Read more about Ecampus students on the student profiles page.

Features and Navigation
Academic calendar
Currently it's fall term. See academic calendar for our quarter term schedule.

Winter term starts Jan. 4, 2021.
Spring term starts March 29, 2021.
Ranked top 10 in the nation
OSU Ecampus earned a top 10 ranking for the sixth year in a row on a list of America's best online bachelor's programs. Learn more »