Oregon State University Ecampus • OSU Degrees Online
---
Explore Ecampus
Compare bachelor's degrees
Oregon State Ecampus delivers 25+ undergraduate degrees online.

Published by: OSU Extended Campus
Oregon State University, Corvallis, Oregon; Vol. 9, #5
Summer Edition - July 11, 2007
http://ecampus.oregonstate.edu
800-667-1465
---
Calendar
View university dates, deadlines and holidays for summer term 2007.

---
The lives behind the numbers...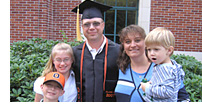 The 2006-07 academic year proved successful for Ecampus students. This year 87 students graduated, up from 71 last year. Here, you can find stories of some of the Ecampus graduates that made it to Corvallis for the graduation ceremony on June 17, and also a complete list of our 2007 Ecampus grads. Read more...


---
What do you think of the new Ecampus website?

We've given our Extended Campus website a facelift! Over our existing content, you'll notice a new homepage layout, navigation option via audience and an updated design. Complete our online survey and enter to win a $75 OSU Bookstore gift certificate!
Go to survey...


---
Looking for a minor to enhance your degree?

Then you should look into our new online psychology minor program, one of 10 minors offered online. The program provides enrichment that will supplement any field of study, especially for those looking at careers that work closely with other people. Undergraduate psychology advisor Dr. Michael Crowley says a psychology minor will provide students an "Increased understanding of mental processes and behavior which can apply to your professional, social and personal life." Read more...

---
Blackboard launches e-Portfolios...

E-Portfolios enable students and faculty in the online Blackboard classroom to share information for documenting academic growth and career evaluation. The "Share" option allows students to grant non-Blackboard users access to their work and can export the e-Portfolio online when they leave. This tool allows you to showcase your work and demonstrate academic achievement. View tutorial here...

---
Beaver baseball wins back to back championships...

Join in the excitement of the Beaver's second sweep of the College World Series against the North Carolina Tar Heels by reading the article that captured the joy of their winning moment in Omaha. You can also find a link to the Beaver Fan Shop to get your orange and black Back 2 Back Beaver gear. Read more...

---

Thanks for reading Ecampus E-News. Want "E-News" in your Inbox?
Subscribe to Ecampus E-News
today!

Features and Navigation
Media inquiries
If your publication would like to feature an OSU Ecampus online program, student or instructor, please contact Tyler Hansen.
For journalists
Gather quick facts about OSU Ecampus, our history and students on our webpage for members of the media.
Award-winning electronic newsletter
Where Ecampus is making the news
Staff, student and course honors
Ranked top 10 in the nation
OSU Ecampus earned a top 10 ranking for the fifth year in a row on a list of America's best online bachelor's programs. Learn more »