Oregon State University Ecampus • OSU Degrees Online
---
Update: On-campus proctoring in Milne will be closed through the end of summer term along with many other approved proctors around the world. If you are in an area impacted by closures we encourage using ProctorU. Consult your course syllabus if needed to determine your proctoring options. More COVID-19 resources »
Corvallis Campus Proctoring Schedule
On-campus testing is closed for spring 2020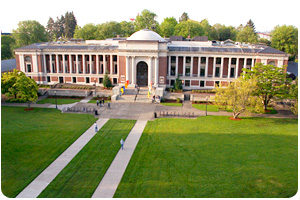 Each term, Ecampus offers a limited number of scheduled times at the OSU Corvallis campus for students to take their Ecampus proctored exams. Space is limited and there is no guarantee that all students will get a seat.
Please sign up as early as possible if you would like to test on campus. This is first-come, first-served. Once space is full or if the available times do not work for your schedule, you will need to make arrangements with an approved off-campus proctor.
Disability Access Services (DAS) also proctors Ecampus exams for students with disability-related accommodations on the OSU Corvallis campus. To select DAS as your proctor, locate them in off-campus proctors on the exams and proctoring form and then schedule your exams with DAS.
The Corvallis Ecampus proctoring schedule is usually available week 2 of the term.
Click to view the Corvallis Ecampus schedule. A valid photo ID is required for all exams.
Be sure to register as soon as possible to reserve a seat, as space is limited. Once all seats are full, students will have to look at off-campus testing options. All Ecampus proctoring sessions are limited to two hours. You will not be allowed to test longer than two hours, even if your instructor has granted you more time.
If you receive disability-related accommodations for extra exam time and would like to use these at the Ecampus proctoring sessions in Milne Computing Center, please select sessions early enough for your exams to be completed before the last session of the day ends. Exams must be completed within our operating hours. Exam check in for all students begins 30 minutes prior to each session's start time. Please contact us at 541-737-9281 or ecampustesting@oregonstate.edu if you would like to check in more than 30 minutes before a session begins to receive your full exam time.
If you have any questions, please email ecampustesting@oregonstate.edu or call 541-737-9281. Our office hours are 7:30 a.m. - 4:30 p.m. PT Monday-Friday.

Features and Navigation
Academic calendar
Currently it's summer term. See academic calendar for our quarter term schedule.

Fall term starts Sept. 23.
Winter term starts Jan. 4, 2021.
OSU Ecampus earned a top 10 ranking for the sixth year in a row on a list of America's best online bachelor's programs. Learn more »