Oregon State University Ecampus • OSU Degrees Online
---
Ecampus fact
Ranked top 10 in the nation
Ecampus earned a top 10 ranking for the fourth year in a row on a list of America's best online bachelor's programs.
Corvallis Campus Proctoring Schedule
On-campus testing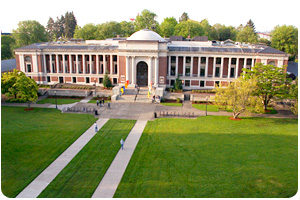 Each term Ecampus offers a limited number of scheduled times at the OSU Corvallis Campus for students to take their Ecampus proctored exams. Space is limited and there is no guarantee that all students will get a seat. Please sign up as early as possible if you would like to test on campus. There is no fee for this service, but it is first come, first served.
The on campus schedule is usually available Week 2 of the term.
Corvallis campus proctoring schedule
Valid photo ID is required for all exams.
Click to view the Corvallis Campus Schedule.
Please note: the schedule will not be posted until the 2nd week of the term.
Be sure to register as soon as possible to reserve a seat. Space is limited and there is no guarantee of a space. Once all seats are full, students will have to look at off-campus testing options.
All on campus sessions are limited to 2-hours. You will not be allowed longer than 2 hours, even if your instructor has given you more time. If your exam is longer than 2 hours and you want all of your allowed time you will need to use an off campus proctor.
If you have any questions, please email Ecampus Testing, or call 541-737-9281. Our office hours are 7:30 a.m.-4:30 p.m. PST Monday through Friday.

Features and Navigation
Academic calendar
Currently it's fall term. See academic calendar for our quarter term schedule.

Winter term starts Jan. 7, 2019.
Spring term starts April 1, 2019.
OSU Ecampus earned a top 10 ranking for the fourth year in a row on a list of America's best online bachelor's programs. Learn more »