Oregon State University Ecampus • OSU Degrees Online
---
Ecampus fact
24,000+ students worldwide
Oregon State Ecampus serves students in all 50 states and more than 50 countries.
Degree Requirements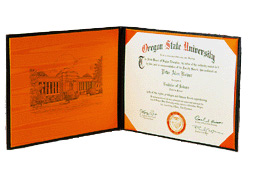 Oregon State University Extended Campus offers opportunities to complete a degree at both the Undergraduate and Graduate levels.
Graduate
Information regarding Oregon State University Graduate programs, and admission procedures is available in the Graduate Student website. To explore Ecampus graduate degree and certificate programs, please go to our Degrees and Programs section.
Undergraduate
Our accredited online degrees and programs appear the same on your Oregon State University transcript as do on-campus degrees and programs.
Each of our undergraduate degrees has a detailed curriculum guide that can be viewed and printed for your convenience (see each program's Curriculum page to download the PDF). You may also wish to browse the minor programs we offer. While visiting these links, explore other program and career information available.
Baccalaureate Core requirements:
The Oregon State University Baccalaureate Core will continually be enriched. It emphasizes creative thinking, writing, world cultures, appreciation of differences, the arts, sciences, literature, lifelong fitness and global awareness in 15 course categories. Students must complete a total of 48 credits plus the Writing Intensive Course (WIC).
"SKILLS" COURSES (15 credits)
Writing I (3)
Writing II (3)
Speech (3)
Fitness (3)*
Mathematics (3)
"PERSPECTIVES" COURSES (24 credits)
Physical Science (with lab) (4)
Biological Science (with lab) (4 or 8)
Social Processes & Institutions (3)
Western Culture (3)
Cultural Diversity (3)
Literature & Arts (3)
"DIFFERENCE, POWER, and DISCRIMINATION (3)
Difference, Power, and Discrimination Course (3)
"SYNTHESIS" COURSES (6)
Contemporary Global Issues (3)
Science, Technology, and Society (3)
"WRITING INTENSIVE COURSES" (WIC) (3)
Writing Intensive Course (3)
You may print a list of  OSU Baccalaureate Core Courses here. 

*For more information about meeting the "Fitness" requirement (see "Skills" above) with HHS 231, Lifetime Fitness for Health, visit the HHS 231 Special Examination for Waiver or Credit.  
Many courses have prerequisites. Please check the course description and talk to your advisor for more information. To view online course descriptions, visit our Schedule of Classes. Click directly on the course title to get the detailed course information, including the list of prerequisites, links to a sample syllabus and the link to the OSU Bookstore to purchase course materials.
Finding Bacc Core courses offered online at OSU Extended Campus
To see what Bacc Core-approved courses are offered through OSU Exteded Campus, go to our Ecampus Schedule of Classes Bacc Core.
Taking Bacc Core courses at another institution
If you need to take Bacc Core courses at another institution, you can take these courses locally or online to meet these requirements. If you are not admitted to OSU, check with Ecampus Student Services to make sure the course can satisfy the Bacc Core requirement. If you are an admitted OSU student, you will want to work closely with your academic advisor at OSU to make sure you are taking a course that will transfer and satisfy the Bacc Core requirement.

Features and Navigation
Academic calendar
Currently it's fall term. See academic calendar for our quarter term schedule.

Winter term starts Jan. 6, 2020.
Spring term starts March 30, 2020.
OSU Ecampus earned a top 10 ranking for the fifth year in a row on a list of America's best online bachelor's programs. Learn more »